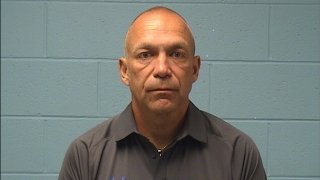 Update: On May 11, 2022, a jury in Waterbury found Michael Forgione not guilty on all charges.
A Wolcott High School physical education teacher is accused of sexually assaulting a student.
Michael Forgione, 49, of Plantsville, was arrested Thursday.
Police said they first received a complaint about Forgione in May from a student. At that time, Forgione was placed on leave.
After investigating, Wolcott police were granted an arrest warrant. Forgione is charged with fourth-degree sexual assault, risk of injury to a minor and breach of peace.
Forgione turned himself in and was released on a $10,000 bond. He is due in court on Sept. 12.
Forgione's attorney, Ioannis Kaloidis, released the following statement in response to the accusations.
"Mr. Forgione is innocent of all the baseless charges that have been leveled against him. Mr. Forgione intends to fight all the charges vigorously and looks forward to being vindicated at the end of what we anticipate will be a long and painful process.
"Mr. Forgione cooperated fully with the investigation, meeting with both the Wolcott Police and the Department of Children and Families. Mr. Forgione was cleared of any wrongdoing by DCF as the allegations against him were unsubstantiated. We are shocked and deeply disappointed that the Waterbury States Attorney's office elected to pursue these baseless and uncorroborated allegations. Despite dozens of people being present when this alleged incident occurred, no one saw anything. No one saw anything because nothing happened.
"Mr. Forgione has been a teacher and coach for over 20 years and has never been accused of any misconduct. It is truly a tragedy that a man's career and livelihood can be put at risk based on one single, uncorroborated false allegation. Mr. Forgione will be vindicated."
NBC Connecticut has reached out to Wolcott Public Schools for comment.
No other details were immediately available.