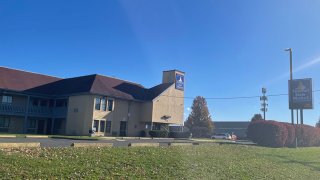 A woman has been arrested on manslaughter charges in connection to a homicide that happened in a Hartford hotel room several months ago.
Hartford Police said 39-year-old Lisa Kittrell, of Bridgeport, was taken into custody Thursday after turning herself in at the police department.
Authorities said 32-year-old Angel King was found unresponsive after being shot in a hotel room at 100 Weston St. on Nov. 7. King was taken to a nearby hospital where he died, police said.
An autopsy conducted by the Office of the Chief Medical Examiner determined that King's death was a homicide.
Detectives were able to establish probable cause and obtain an arrest warrant for Kittrell. She was taken into custody and faces charges for second-degree manslaughter and unlawful discharge of a firearm, according to police.
The Hartford Police Major Crimes and Crime Scene Division is investigating. Anyone with any information is asked to call the Hartford Police Department Tip Line at 860-722-TIPS (8477).