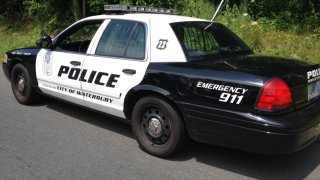 A 22-year-old woman has died after she was found inside of a vehicle in Lakewood Lake in Waterbury early Sunday morning.
Officers responded to Lakewood Road around 3:45 a.m. after getting a report of a vehicle submerged in the water of Lakewood Park.
Dispatchers a utility company worker who was working on a utility pole because of a power outage notified them about a vehicle in the water.
The Region 5 Dive Team responded and police said they found an unresponsive woman inside of the vehicle.
She was transported to the hospital, where she was later pronounced dead, authorities said.
Police have identified her as 22-year-old Yamiles Vazquez, of Waterbury.
The vehicle she was in was removed from the water and no one else was inside it, officers said.
Police are investigating and the Waterbury Police Department's Crash Reconstruction Unit is working to determine the cause of the vehicle entering the water.
Anyone with information is asked to call police at (203) 346-3975.