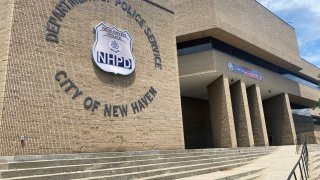 A woman has been found guilty of murdering another woman in New Haven during a 2021 altercation.
The Office of the State's Attorney said 32-year-old Brianna Triplett, of West Haven, is awaiting sentencing after being found guilty in connection to the March 16, 2021 shooting.
Emergency crews received a report of a person shot near the intersection of Legion Avenue and Auburn Street. When officers arrived, they said they found a woman who had been shot near a parked car.
Triplett was taken into custody following the shooting death of 29-year-old Dwaneia Alexandria Turner, of New Haven.
At the crime scene, officers said they learned of a second gunshot victim who was outside a nearby corner store. Investigators said they believe there was an argument between the three women.
Triplett initially faced assault charges before recently being found guilty of murder. She has an April 25 sentencing date.