Stonington Police have arrested a woman who is accused of being under the influence when she hit and killed two elderly people on Saturday night.
Officers received a 911 call reporting an accident at the intersection of Route 27 and Rossie Pentway involving a vehicle and two pedestrians around 8 p.m.
When police arrived, they said they found that two people, later identified as 88-year-old Seth Wakeman and his wife, 78-year-old Joanna Wakeman, were hit at the intersection by a vehicle traveling northbound.
According to police, the vehicle was operated by 73-year-old Carol M. Belli, of Groton, who stayed at the scene after the accident.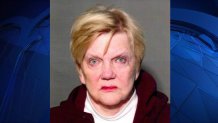 A preliminary police investigation revealed that Belli was traveling north on Route 27 approaching the Rossie Pentway intersection. The Wakemans were crossing the street from the west side of Route 27 toward the east side when Belli hit them both within the northbound lane, police said.
The Wakemans were transported to Lawrence + Memorial Hospital in New London, where they were both pronounced dead.
Belli was later placed under arrest for DUI, according to officers. She was transported to Stonington Police Headquarters, processed and later released on a $600 bond. She will be in court on March 20 in New London.
Friends and neighbors described the Wakemans as a "rock" of their community.
John Garbarino has known Seth Wakeman for about 40 years. He said they were both bankers, part of the Mystic Rotary Club, and that Wakeman was the former president of the Quinebaug Fire District.
"If I know Seth, if he had seen somebody coming pushed Joanna out of the way," Garbarino said.
"I can't imagine what their family is going through. It's one thing to pass away from an illness but they were so full of life," said Andi Burrow, another friend of the family.
The accident is under investigation by the Regional Accident Reconstruction Team consisting of members of the Ledyard and Stonington Police Departments, along with Stonington Patrol Division.