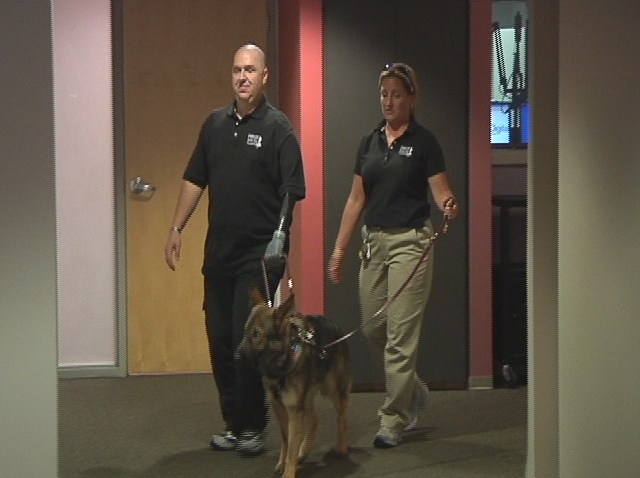 Tech Sgt. Matthew Slaydon lost his sight and his left arm fighting for our country. in Kirkuk in October 2007. Now, the U.S. Airman is getting a new lease on life, with some help from a dog in Bloomfield, Connecticut.
"I honestly wished I had died for a very long time," he said .
It took a long time for
Slaydon
to get over the mental anguish brought on by his physical injuries. Even now, as he spoke to
NBC
Connecticut at the
Clear Channel
studios, he said he has days when he's down and thinking about how his life changed forever when an IED blew up in his face.
"The blast blew off my left arm, crushed my face in, destroyed my left eye completely, left eye is a prosthetic and blinded my right eye," Slaydon said.
He still gets up every day, determined not to let the person who set the IED ruin his life. Now, the retired airman from Phoenix, Arizona has a little help as he takes on the world. His new Fidelco Guide Dog, Legend, will be at his side.
"I want to get my independence back, I'm just tired of lying around the house. I went from being literally gone, eight months out of the year, to sitting on my couch, retired all of a sudden. And for some people they're like 'Yeah,' but for me, that's a fate worse than death. Boredom is my nemesis," Slaydon said.
The two have already bonded and are learning to lean on one another.
Slaydon said Fidelco didn't just pick a dog, it picked the perfect dog, one that Slaydon will be leading with his prosthetic arm.
"We feel privileged that we can provide this assistance to Sgt. Slaydon, simply because he sacrificed so much for all of us,"
Eliot Russman
, CEO and Executive Director of the
Fidelco Guide Dog Foundation
, said.
"If it wasn't for people being benefactors and contributing to organizations, this great organization and others like it, I might be sitting at home living in a bottle of Scotch for the rest of my life," Slaydon said.
Slaydon said his next step is to go back to school to get his doctorate in psychology.