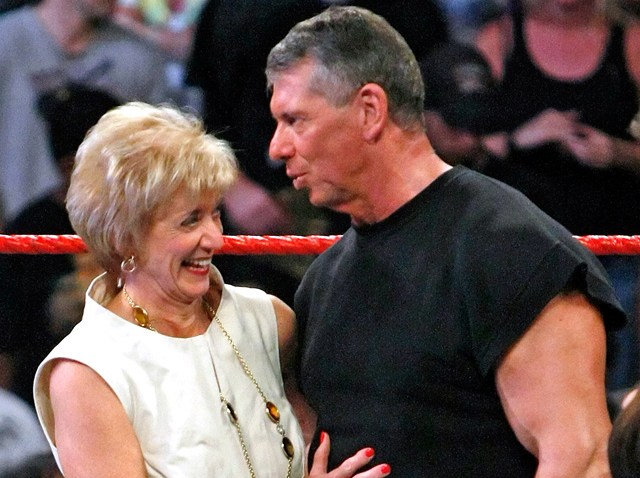 The WWE has filed a lawsuit against Secretary of the State Susan Bysiewicz's office after she said local elections officials would have the discretion to ask people to cover up if they wore anything WWE-related inside the polls or within 75 feet on Election Day.
Vince McMahon, the chairman and CEO of WWE -- and husband of Republican U.S. Senate candidate Linda McMahon-- also said he intends to wear WWE attire when he casts his vote in protest.

Last week, Bysiewicz's office said that local elections officials would have the discretion to ask people to cover up if they were wearing anything WWE-related inside the polls or within 75 feet because it could be considered political advertising for Linda McMahon.
"On behalf of myself, my company, WWE fans and any Connecticut citizen who wants to exercise their constitutional right to vote, I have filed a lawsuit today asserting that Susan Bysiewicz's directive that allows poll workers to refuse registered voters wearing WWE merchandise the right to vote is a flagrant act of censorship and discrimination," Vince McMahon said.
Linda McMahon is running against Attorney General Richard Blumenthal to become the next U.S. Senator from Connecticut.
Blumenthal has recused himself from the case and his campaign said people should be able to wear Cenation shirts, or anything else WWE.
"We don't consider WWE clothing to be political or covered by any law that restricts political action close to polling places. People should be able to wear their WWE clothes to vote," Mindy Myers, Blumenthal's campaign manager, said in a statement.
Bysiewicz released a statement on Tuesday saying her office did not issue a directive that anyone wearing WWE attire be turned away at the polls.
"This office has never issued a blanket prohibition or declaration prohibiting any particular type of apparel. The only clothing, items or apparel prohibited by Section 9-236(a) are those that "solicit" for or against a candidate or ballot question. Each local moderator must assess each situation on a case-by-case basis,: she wrote. "In past elections, this office has consistently recommended that voters wearing t-shirts bearing the likeness or campaign logo of candidates, be asked to button their jackets when other voters have complained."
Deputy Attorney General Carolyn Querijero said the office "will review the lawsuit and consult with the Secretary of the State's Office."
McMahon said he intends to wear WWE paraphernalia to the polls in protest, according to court documents.
With election day coming in seven days, Vince McMahon has asked for an "immediate in-person or telephonic status conference."
NBC Connecticut has reached out to Bysiewicz's office and the said they will be issuing a statement.
Read the court documents here:
Civil motion for temporary restraining order.
Request for expedited discovery and status conference
Vince McMahon launched the "Stand Up for WWE" campaign and appealed to fans and celebrities. He also posted a video on Facebook that mentions the clothing issue.
Follow us on Twitter @NBCConnecticut, on Facebook, and sign up for breaking news SMS alerts on your phone by texting "CTBREAKING" to 622669.