The Hartford Taste Festival happens this weekend and it's a chance for people near and far to enjoy what the capital city has to offer.
Here's your guide for everything to know about the Hartford Taste Festival in Connecticut.
What is the Hartford Taste Festival?
This is a celebration of restaurants in the capital city, as well as nearby communities. It's intended to support restaurants that have struggled since the beginning of the pandemic and also benefit Connecticut Foodshare.
The festival will also highlight Hartford's music, businesses and cultural diversity.
When is the Hartford Taste Festival?
The Hartford Taste Festival is happening on June 10 and 11, from 11 a.m. to 10 p.m. each day.
Where is the Hartford Taste Festival?
It is at Constitution Plaza in downtown Hartford.
Get directions on how to get there here.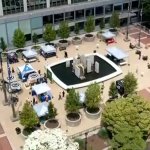 Which Connecticut restaurants are participating in the Hartford Taste Festival?
The restaurants will have three to five "taste portions." The Hartford said it is covering vendor fees so restaurants can participate for free.
Bear's Smokehouse offers Kansas City-style wood-smoked BBQ.

The Hartford location is at 25 Front St.

Bert's Pizzeria, at 264 Park Road in West Hartford, served brick-oven New York-style and gourmet or gluten-free pizzas and more.
Disheveled Diva's
The Dunkin' Brew Bar will offer a free sample of Dunkin's Cold Brew with Sweet Cold Foam.
Fire & Spice Vegan Restaurant, at 491 Capitol Ave. in Hartford, offers gluten-free, nut-free, soy-free entrees; raw vegan, salads; smoothies and juices; as well as desserts, according to the festival website.
Fornarelli's Ristorante, at 283 Asylum St. in Hartford, is an Italian-style dining. There is also a location at 112 Halls Hill Road in Colchester.
Four Dads Pub, at 114 Asylum St. in Hartford and 18R Hartford Ave. in Granby, is a gastro pub and pizza place.
Frida Mexican Cuisine, located at 1150 New Britain Ave. in West Hartford, offers Mexican dishes and is a tribute to painter Frida Kahlo.
Huasteca Restaurant, located at 555 Day Hill Road in Windsor, had an extensive menu with everything from wings to fajitas, to tacos and quesadillas, chimichangas and more.
JAR + Bar, located at 179 Park Road in West Hartford, brings flavors from around the world to the area.
Perfect Poundcakes, at 221 Burnside Ave. in East Hartford, offers baked goods, including its "PoundCups," which are cupcake-shaped pound cakes.
Poké Sushi, at 30 State House Square in Hartford. says it merged its sushi roots and Hawaiian-style poké.
Ranch House Pizza, located at 17 Asylum St. in Hartford, offers a wide array of pizza, from a cheese pizza to a paneer tikka pizza, as well as several other offerings.
Republic is an urban gastropub.
The Place 2 Be has several locations and says it is "inspired by a true love for brunch, Instagram, and our customers."

5 Constitution Plaza in Hartford
615 Franklin Ave. in Hartford
50 Memorial Boulevard in West Hartford

Thomas Hooker Brewing Company, which is located in Bloomfield and Hartford Colt Building, is a popular CT brewery.
Wood-n-Tap has nine locations. It is located in Enfield, Hamden, Hartford, Farmington, Newington, Rocky Hill, Southington, Vernon, and Wallingford.
How much are tickets to the Hartford Taste Festival?
Admission to the Hartford Taste Festival is free.
Where do I park for the Hartford Taste Festival?
There are garages at Constitution Plaza.
South Garage: State Street entrance at 46 State St. in Hartford
North Garage: Kinsley Street entrance at 109 Kinsley St. in Hartford
There is a $5 special event flat fee per day at both garages on June 10 and June 11.
Parking rates vary at other nearby garages.
Music at the Hartford Taste Festival
Several musical performances will be happening during the event.