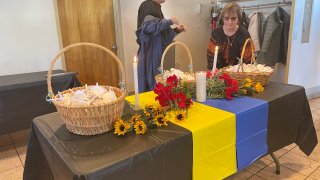 Standing alongside the people of Ukraine while raising awareness of some its most vulnerable. Events were held all across Connecticut, marking one year since Russia launched its invasion of the country.
Stepping inside the Ukrainian National Home in Hartford, pictures are displayed of women and children living their lives in Ukraine in the midst of war.
The exhibit is the work of Dasha Tenditna, a photographer from Kyiv.
"To share their stories. To show something real because of know the world is full of kind people. A lot of people want to help and feel the support," she said.
That support was part of the Hearts for Ukraine event, which marked one year since Russia launched its full-scale invasion. Tenditna wanted to highlight the charity, City of Goodness, which helps provide refuge for women to escape domestic violence. They are now helping those displaced by the conflict.
"The amount of children who lose their families because of the war is growing so it's really important for this shelter to grow," she said.
Elected leaders spoke on American support for Ukraine and the fight for democratic values.
"Today, tomorrow, and forever. We stand with the people of Ukraine and what they have fought for," Rep. John Larson (D-1st District) said.
Also standing with the community is Ela Konferowicz, owner of Belvedere Restaurant and Café in New Britain. That's where a fundraiser was held for the charity.
As a measure of Slavic solidarity, she wanted to highlight the suffering children in Ukraine have endured.
"They already lost parents. They are by themselves over there, so we are trying to get together the whole community. Polish and Ukrainian, so we are like brothers and sisters," Konferowicz said.
Tenditna says she feels the support here in Connecticut.
"This world gives me hope that Ukraine will win, so I'm really grateful for this," she said.
The Ukrainian National House is collecting donations online to send supplies there, and those wishing to donate can click here for more information.