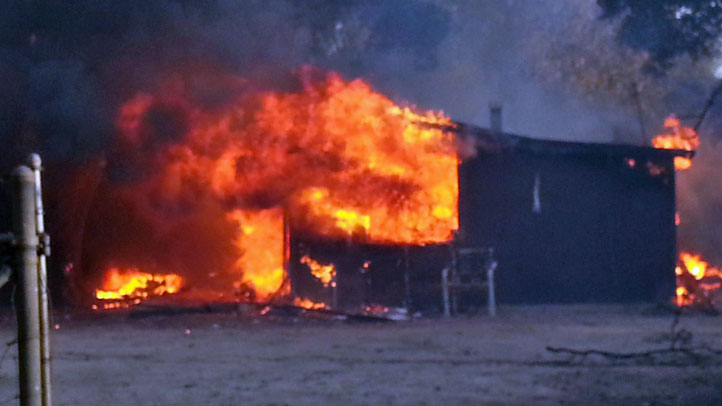 One person has died in a fast-moving brush fire that burned 30 homes near Campo in San Diego's East County.
The fire has burned 2,556 acres near the Shockey Truck Trail and the Campo Indian Reservation and is moving east, according to Cal Fire officials.
An elderly man was reported missing from his home in the Tierra del Sol neighborhood.
Hours after putting crime scene tape around the man's property, San Diego County Sheriff's Department investigators and firefighters confirmed they discovered the body of a person inside the home.
Thirty homes have been damaged or destroyed along with 15 outbuildings. As of Monday evening, the fire was threatening an additional 25 homes in the rural east county area, where many homes are vacant, said Cal Fire spokesperson Mike Moehler.
Cal Fire officials said the "Shockey Fire" sparked around 12:15 p.m. Sunday and was moving rapidly in an easterly direction. As of Monday night, crews said they had reached 40 percent containment.
Weather was helping firefighters as the fire was burning away from homes Monday afternoon. However, the head of the fire remains a challenge for crews as it was moving through rocky terrain that proved to be difficult for ground crews to access.
To compensate, crews are running thousands of feet of hose into these areas and running water. Helicopters saturated the area, making water drops one after the other.
Evacuations are in place for the Tierra Del Sol area, but orders were lifted in the areas of Boulevard and Jacumba. Highway-94 was closed Monday at Shockey Truck Trail to Jewell Valley Road.
Nearly 1,000 fire personnel were working to contain the fire, about half of which were from CalFire. They used 87 fire engines, 6 airtankers, 3 helicopters, 7 dozers and 8 watertenders.
Red Cross officials turned the gym at Mountain Empire High School into a sleeping area Sunday night. Eight people spent the night but the center can hold up to 300 people.
NBC 7 San Diego captured video of several homes on fire but residents were devastated by the news, too distraught to speak. The area was scorched with remnants of burned cars, ruined fences and trees or parts of homes badly damaged.
Ranchers Bob and Laura Gooken considered evacuating with their 28 Clydesdale horses, but it was too late.
"When it came over here across the road, it was right there and we thought about it we can't leave so we decided to stick it out," said Bob Gooken.
"We just held our breath and got very, very lucky, we're very fortunate," said his wife, Laura.
The flames came dangerously close to the area Ginger Bonamo and her husband call home.
"You don't get used to it, you get ready for it," said Bonamo.
School was canceled for Mountain Empire Unified School District on Monday. Other residents in Live Oak Springs, Boulevard and Jacumba lost power Sunday night.

The Red Cross set up an evacuation center at Golden Acorn Casino on Golden Acorn Way along with the shelter at Mountain Empire High School on Buckman Springs Road.
By Wednesday afternoon, the evacuation centers were closed, as the fire was almost fully contained.

As of 7:30 p.m. Wednesday, Cal Fire reported the Shockey Fire was 98 percent contained.
The Humane Society is helping to assist with large animal evacuation. For more information on livestock evacuation, call the San Diego Humane Society at 619-299‐0871 or the San Diego County Animal Services Emergency Dispatch at 619-236‐2341.
The cause of the fire is under investigation.
For non‐emergencies, contact the San Diego County Sheriff's Department at 858-565‐5200 or the Crisis Hotline 24/7 at 888-724‐7240