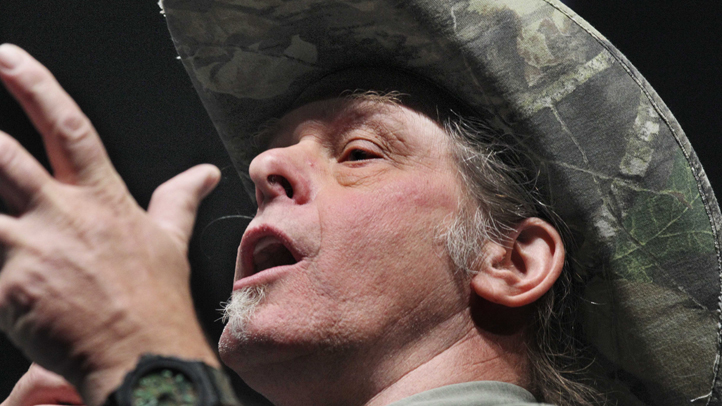 Ted Nugent, who attended Tuesday's State of the Union address and heard President Obama's emotional plea for gun control, declared the speech "predictable" and "flowery."
That's a predictable reaction from the outspoken former onetime rock star, who clearly is a bigger fan of fire power than flower power. What's surprising is that Nugent was invited to the speech (by a Texas congressman), and that 35 years after "Cat Scratch Fever" his proclamations are news.
As the national gun control debate rages in the wake of December's Newtown tragedy, celebrities on the A to Z lists are weighing in, from Nugent to gun control fan Jim Carrey to Kim Kardashian, who apparently doesn't like firearms for shooting but thinks they make really cool jewelry. They've all got a right to speak out. But celebrities of all varieties might want to think more carefully about the responsibility that comes with fame before going off half-cocked.
The entertainment world is in a particularly uncomfortable position on the gun control issue. Hollywood, a supposed bastion of liberalism, finds itself on the defensive amid renewed complaints in some quarters that big- and small-screen depictions of violence are part of the problem.
Bruce Willis scoffed at that view in a
recent interview
with The Associated Press, in which he also opposed additional gun control laws. He's entitled to his opinion, but the context – his comments came while promoting the latest flick in the fun, cartoonish-violence-packed "Die Hard" series – pushed the boundaries of taste.
Kardashian, not surprisingly, is confused. Just weeks after signing a
pledge
to help reduce gun violence, she
reportedly
uploaded a picture of a jewel-encrusted revolver to Instagram. The photo was quickly taken down, but survives on the
Internet
.
Carrey, meanwhile, went online to
volley
with Fox News over whether guns or cars are more deadly: A car, he
tweeted
, "is a lot harder to get through the door of a classroom." It's a clever line, but perhaps more flip than effective – it could come off as insensitive when raw memories of Newtown are still fresh. Twitter is great, but its 140-character limit make it friendlier at times to snark than nuance.
When we're in desperate need of nuance, Nugent gave us a sideshow Tuesday night, adding new layers to the parody he's become of himself. He was aided by a freshman Texas rep now best known for inviting the Motor City Madman to Washington.
The power of entertainers to draw attention to causes, popular or otherwise, has become stronger with the Internet-fueled growth of media. But the pull of the famous also has become diluted, in a sense, by an expanding definition of celebrity under which outrageousness and stunts too often get more attention than accomplishments and talent. That approach might be effective in, say, scoring a reality show, but does little to further serious public discourse.
We all enjoy a First Amendment right to have our say on the Second Amendment and anything else. But even the Z-listers might want to occasionally pause for some serious thought: Before speaking or tweeting, check the safety first.
Hester is founding director of the award-winning, multi-media NYCity News Service at the City University of New York Graduate School of Journalism. He is the former City Editor of the New York Daily News, where he started as a reporter in 1992. Follow him on Twitter.
Copyright FREEL - NBC Local Media