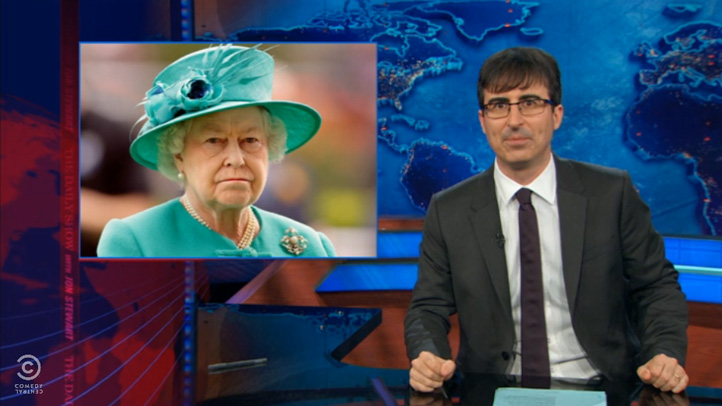 All eyes were on the birth of England's newest royal prince, but "The Daily Show" decided to take some playful aim at the country's 87-year-old monarch, Queen Elizabeth II.
In two separate bits from the show, fill-in host John Oliver poked fun at the royal higness' bedtime and her classic look of "delight."
"As with anything involving the queen, there was an issue of timing," Oliver said as the show transitioned to clips of on-air reporters talking about the queen's reported 9 p.m. and 10:30 p.m. bedtimes.
"If that baby hadn't come before nine, he was going to be pushed back in until the morning," Oliver said as he pointed to viewers. "Because you do not disturb her majesty."
Later on in the segment dedicated to the birth of the royal baby, Oliver argued that some news reports were wrong to report that the queen would be "delighted" about her new grandson.
"She is no longer delighted about anything," Oliver said. "Her face will look like like it always looks: A saggy mixture of boredom and contempt."
And he showed clips of the queen at the 2012 London Olympic games, at the wedding of Prince William and Kate Middleton, and her own 80th birthday celebration last year to make his point.
Aside from "The Daily Show" taking aim at Britain's queen, Oliver jabbed at the nonstop media coverage of the royal birth, the ongoing mystery of the baby's name and the traditional and not-so-traditional celebrations following the birth of the new prince.
Watch a clip of the full "Daily Show" segment dedicated to the birth of the royal baby.