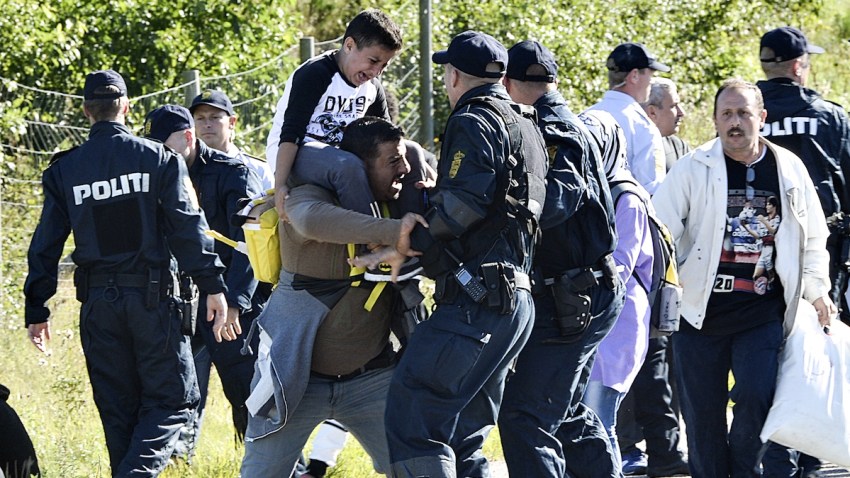 Danish police will no longer try to stop migrants and refugees from transiting through the country to get to Sweden and other Nordic countries, Denmark's police chief said Thursday.
The move highlights how European Union countries are struggling to uphold rules under which people fleeing war and persecution are supposed to apply for asylum in the first EU country they enter and not travel from one country to another.
The Danish decision comes amid a surge of migrants and refugees arriving from Germany and refusing to apply for asylum in Denmark, saying they want to go Sweden, Finland or Norway instead.
Danish authorities initially insisted they must register in Denmark but reversed course in a decision late Wednesday after standoffs with hundreds of migrants who demanded the right to cross the country.
"We can't detain foreigners who do not want to seek asylum (in Denmark)," police chief Jens Henrik Hoejbjerg said Thursday. "Therefore, there is no other option than to let them go, and we cannot prevent them from traveling wherever they want."
In the Danish port city of Roedby, one of the two main crossings from Germany, migrants were seen being picked up by people in private cars. It was unclear where they were going.
Authorities said at least 3,200 migrants have entered Denmark since Sunday and about 400 have sought asylum.
Many migrants say they want to go on to Sweden, Norway or Finland, because they have relatives there or believe that conditions for asylum-seekers are better.
Danish railway company DSB said some train service between Germany and Denmark resumed on Thursday after being suspended the day before.
Copyright AP - Associated Press