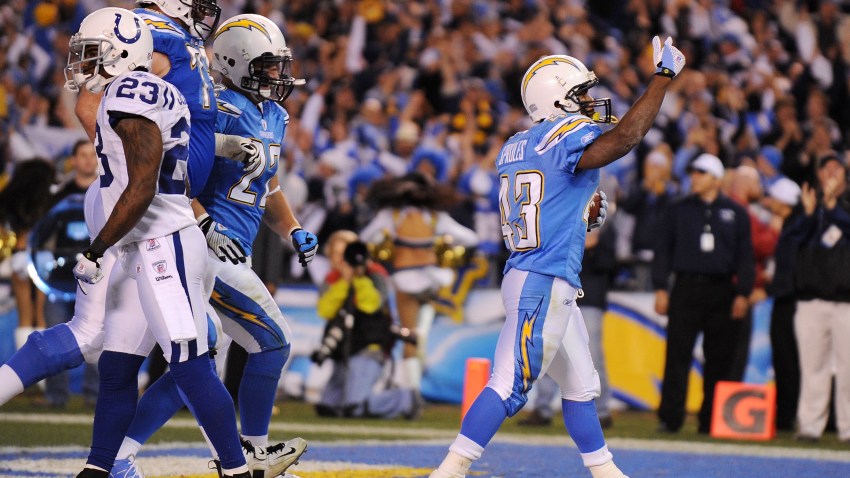 All afternoon as fans tuned in to watch the NFL playoffs they were inundated with updates on San Diego Chargersrunning back LaDainian Tomlinson. A groin injury suffered in San Diego's Week 17 victory over the Denver Broncos left his status up in the air. Would he play? Did he need surgery? Hey look, there's LT riding a bike. There he is dancing to warm up.
Well, in the end Tomlinson would play, but it would be his backup Darren Sproles who stole the show for the Chargers. After Tomlinson scored the Chargers first touchdown of the game, Sproles took over the workload as Tomlinson left the game for good in the second quarter. Sproles, the 5'6 spark plug, ripped through the Colts defense all night. He rushed for 103 yards, caught five passes for 45 yards, and had 178 yards on kick and punt returns. That's 326 yards of offense from a guy most people would consider too small to play baseball, let alone running back in the NFL.
Michael Bennett also played a key role in the Chargers ground attack after Tomlinson left the game. Signed during the middle of the season, Bennett never saw the playing field during the regular season, and made his Chargers debut on Saturday night, rushing for 24 yards on four carries in the fourth quarter.
Nate Kaeding kicked a 26-yard field goal with 33 seconds left to tie the game and force the overtime, and after winning the coin toss, the Chargers took the ball first. Then, thanks to three huge penalties against the Colts -- all of which gave the Chargers first downs -- the Chargers began to set up for a field goal. The plan was a couple hand offs to Sproles to put the ball in the middle of the field, but Darren had other plans, breaking free from a tackle in the backfield and busting outside for the game-winning 22-yard touchdown run.
Peyton Manning had a good game for the Colts, throwing for 310 yards and a touchdown, but the Colts were never able to get a consistent rushing attack working, and it cost Indianapolis in the end.
The Chargers will have to wait for the outcome of tomorrow's Dolphins/Ravens game to see where they're playing next week. With a Dolphins victory, San Diego will fly to Tennessee to take on the Titans next week. If the Ravens win, the Chargers will go to Pittsburgh to face the Steelers.
Copyright FREEL - NBC Local Media