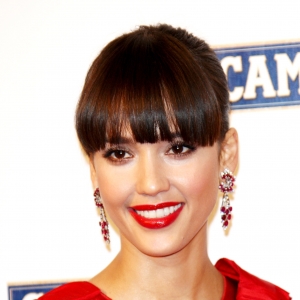 The national nonpartisan, nonprofit youth voter initiative, Declare Yourself, announced today the details of their Inauguration kick-off event on January 18 at 8 PM at the Renaissance Hotel in Washington, DC. The star-studded event will celebrate young voters' unprecedented role in the Election and provide inspiration for ongoing civic involvement in the challenging months and years ahead.
The evening will be hosted by Jessica Alba and will feature special musical guests including Maroon 5, spoken word artists Steve Connell, Sekou (Tha Misfit), Nuttin' But Strings, celebrity DJ Samantha Ronson, and surprise guests. The debut of Declare Yourself's "Born Again American" song will occur that evening with a sensational live performance.
VIEW THE PHOTOS: The Latest Star Sightings
"Born Again American" is a specially commissioned song to move all listeners to recommit themselves to American citizenship as we go through these trying but hopeful times together. "Born Again American" asks citizens to pledge themselves to being "their country's keeper" through higher levels of service and civic engagement.
Norman Lear, the TV producer, and founder of Declare Yourself, said, "This Inauguration marks an important moment in our country's history – one that allows us all to be proud of how far we've come and the direction we're going. Our event celebrates this moment and helps motivate us all to become more active in our communities on the local and national level by getting involved, giving back, and being proud to be an American, born again."
Tickets cost $250 and are available to the public by contacting Rachel@hirschbergstrategies.com or calling (202) 547-5797. The proceeds from the evening will go towards Declare Yourself and the "Born Again American" campaign launch in coordination with the Inauguration and the start of the new Presidential administration.
About Declare Yourself:
Declare Yourself is a nonpartisan, nonprofit campaign to empower every eligible American, 18-to-29 years old, to register and vote. Through the power of strategic media partnerships, celebrity spokespeople, retail outreach, sports and, most importantly, digital technology and social media, Declare Yourself created a campaign that embraces the landscape of youth peer and popular culture to lead young people to higher levels of true civic participation. Declare Yourself has pledged itself to continue to give young people a strong voice and exciting channels for civic involvement in the years to come.
VIEW THE PHOTOS: The Obama Family
Declare Yourself's massive outreach drew on the power of direct youth outreach and innovative sponsorships with entities such as MySpace, MTV, Google, AOL, Yahoo!, American Eagle retail stores and "The Ellen DeGeneres Show." Over 2.2 million young people either used Declare Yourself's on-line registration tool or registered through its Ultimate College Bowl national contest. More than four million received text reminders on their cell phones to register and vote. Over 5.1 million people viewed Declare Yourself's line-up of viral video and TV PSAs; Declare Yourself's "Only You Can Silence Yourself" print and video campaign featuring Jessica Alba and Hayden Panettiere received more than 100 million media impressions through print outlets such as Rolling Stone, Time, Seventeen, Sports Illustrated and People.
In 2003, Declare Yourself launched its initiative with The Declaration of Independence Road Trip, a nationwide multimedia exhibit and tour of Norman Lear's original 1776 copy of the Declaration of Independence.
Related Content from AccessHollywood.com:
PLAY IT NOW: Jessica Alba & Hayden Panettiere's 'Muzzled' Voting PSA
PLAY IT NOW: Music Video: Maroon 5 Feat. Rihanna - 'If I Never See Your Face Again'

MORE ACCESS ON THESE TOPICS: Politics - Jessica Alba - Music - Media - TV

Copyright NBCAH - Access Hollywood