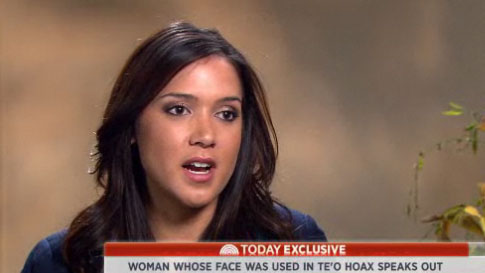 A Los Angeles marketing executive whose images were used in an elaborate hoax involving a Notre Dame football star said in an interview broadcast on the TODAY Show that she did not know who Manti Te'o was until last week.

That's when a Deadspin.com report revealed the linebacker's story of a girlfriend who died within days of his grandmother's death was a hoax. Te'o's grandmother died before Notre Dame defeated Michigan State Sept. 15, and the tale of the girlfriend's death seemed to add to an inspirational backstory that would be repeated throughout a college football season in which the Fighting Irish went undefeated before losing to Alabama in the BCS Championship game.

"It's very bizarre, and it's a very twisted and confusing scenario," Diane O'Meara, 23, told NBC. "I've never met Manti Te'o in my entire life. I've never spoken with him. I've never exchanged words, tweets (with him)."

O'Meara's images became the face of Lennay Kekua — Te'o's fake girlfriend whose supposed death from leukemia became the subject of several interviews conducted with the Heisman trophy finalist. Te'o repeatedly spoke of Kekua's death during the season.
He informed Notre Dame officials Dec. 26 that he was the victim of a hoax. The school, which conducted an investigation, also maintains that he was the victim — not a perpetrator — of the elaborate prank.
Te'o claims an acquaintance — the nature of the relationship remains unclear — identified as Ronaiah Tuiasosopo is behind the prank. Tuiasosopo, a former Antelope Valley High School football player, is accused of using online pictures of O'Meara to provide a face for the fictional Lennay Kekua. O'Meara, who works at a marketing and event planning company in Torrance, and Tuiasosopo were high school classmates.

"Ronny has called and not only confessed, but he has also apologized," O'Meara told NBC. "I don't think there's anything he could say to me that would fix this."
In an interview with ESPN, Te'o also said Tuiasosopo confessed and apologized.

Tuiasosopo, of Lancaster, has yet to speak publicly about the case. O'Meara found out about the use of her images after receiving a phone call from Deadspin.com reporters working on the Te'o story.

More Local Stories: