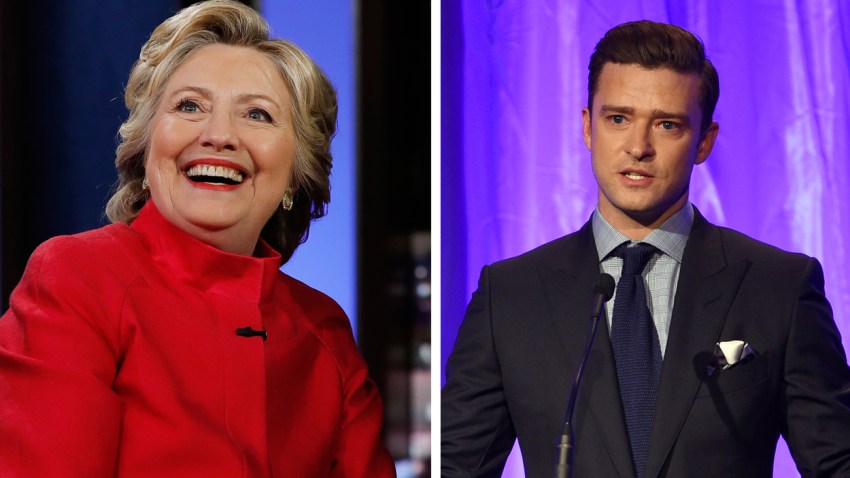 On the narrow street leading to the home of Justin Timberlake and Jessica Biel, there are orders for no parking and no stopping.
Unless you're invited, there is no way to reach the house serving as backdrop for the third Hillary Clinton campaign fundraiser in SoCal in just two days.
The Democratic presidential nominee will wrap her a two-day visit to Los Angeles and Orange counties Tuesday with a star-studded fundraiser at the Timberlake-Biel Hollywood Hills abode before heading on to two fundraisers in Laguna Beach.
It's at the home of the iconic pop singer where a luncheon running at $33,400 per person will be held.
Everyone from actors Tobey Maguire and Jennifer Aniston to TV producer Shonda Rhimes are expected.
The event was punctuated by a tweet from the super-star couple with Clinton sandwiched in the middle, featuring the hashtag "I'm with her."
The event was originally scheduled to be hosted by actor Leonardo DiCaprio. A change in the production schedule for DiCaprio's upcoming climate change documentary meant the Oscar winner could not attend, according to People magazine, which cited a source close to the event.
Clinton will then hold another $33,400 per person lunch fundraiser in Laguna Beach, which includes a photo with Clinton. Couples paying $100,000 are also admitted to a host reception with Clinton, according to an invitation obtained by City News Service.
Clinton will conclude her Southland visit with another Laguna Beach fundraiser, with tickets priced at $2,700, the maximum individual contribution to a presidential candidate in the general election under federal law. Guests raising $27,000 are admitted to a host reception with Clinton.
The $33,400 figure is the maximum amount an individual can contribute to a national party committee in a year.
Clinton began the visit Monday by taping an appearance on the ABC late- night talk show "Jimmy Kimmel Live" and holding two fundraisers. In her appearance with Kimmel, Clinton made light of both the revelation that the FBI collected nearly 15,000 new emails in its investigation of her and Republican presidential nominee Donald J. Trump and former New York City Mayor Rudy Giuliani questioning her health.
Clinton told Kimmel "my emails are so boring and I'm embarrassed about that."
When Kimmel asked 68-year-old Clinton about the questions about her health, she offered up her hand and said "take my pulse," explaining "to make sure I'm still alive."
Kimmel then took her hand and gasped, telling the audience, "Oh my god, there's nothing there."
Clinton implied that the stories are baseless, saying sarcastically, "With every breath I take, I feel like it's a new lease on life."
Much of the speculation stems from a concussion Clinton sustained in December 2012 after fainting, an episode her doctor has attributed to a stomach virus and dehydration. Giuliani urged voters to "go online and put down `Hillary Clinton illness,"' in an interview with Fox News on Sunday, saying the next morning that she "looks sick." Trump has questioned her stamina at campaign rallies and speeches, saying in a foreign policy address earlier this month that she "lacks the mental and physical stamina to take on ISIS".
When Kimmel asked about her preparations for the three debates with Trump, Clinton said she's taking the match-up seriously but is getting ready for "wacky stuff."
Her first fundraiser Monday was at the home of Basketball Hall of Fame member Earvin "Magic" Johnson near Beverly Hills, with co-hosts including actors Denzel Washington and Samuel L. Jackson. The second fundraiser at the Beverly Hills home of Haim Saban, the chairman and CEO of the Saban Capital Group, Inc., whose assets include the Spanish-language television network Univision.
Tickets began at $2,700 per person, according to an invitation obtained by City News Service.
Like nearly all fundraisers for presidential candidates, the events were closed to reporters.
Clinton's visit began one day after the Republican National Committee released a 19-second paid web ad critical of "Hillary Clinton's liberal elite summer tour with frequent stops in Beverly Hills, Hollywood and Cape Cod."