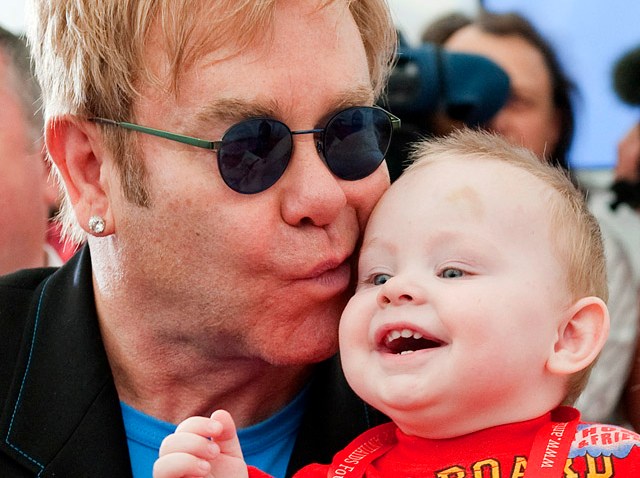 Elton John is too old to ride the celebrity adoption wave, according to Ukranian officials who have denied the 62-year-old singer's bid to adopt a 14-month-old HIV-positive child.
John and his partner David Furnish had announced their intention to adopt the boy, named Lev, from an orphanage they had toured as part of an anti-AIDS charity project this past weekend. However, Ukranian Family, Youth and Sports Minister Yuriy Pavlenko said on Monday the couple could not adopt the child because Ukranian law requires adoptive parents to be married and no more than 45 years older than an adopted child.
John and Furnish tied the knot in 2005 in one of the first legalized civil unions in Britain, but Ukraine does not recognize gays unions as marriage.
"Elton John will not be able to adopt a Ukrainian child and if he files that request we will unfortunately deny it," Pavlenko said. "The law is the same for everybody: for a president, for a minister, for Elton John."
Pavlenko said Ukraine was grateful for the singer's charity work and expressed hope that his desire to adopt Lev would spur the domestic adoption of more children with health problems.
The celebrity adoption trend has made big news with Angelina Jolie and Brad Pitt's ever-growing family, and also includes Nicole Kidmann, Meg Ryan and Ewan McGregor. In June, Madonna won a court case to adopt a child from Malawi after her initial attempt to adopt the child was rejected.
Get more: The Associated Press