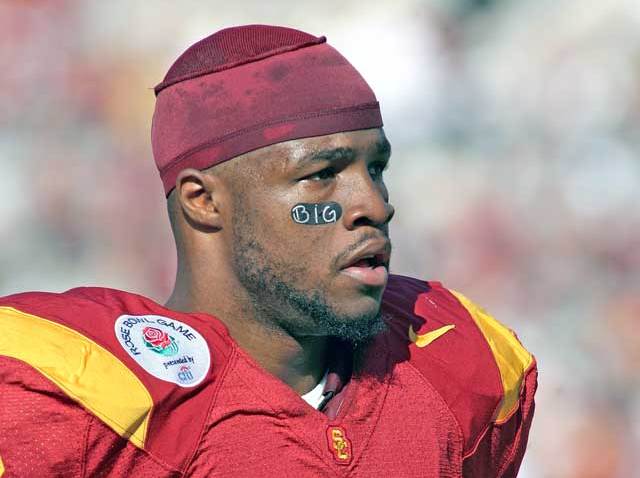 USC running back Stafon Johnson, reportedly spitting up blood, had emergency surgery after he apparently lost control of a 275-lbs weight when the bar slipped and landed on his throat.
He is "critical but stable" and is still in surgery at California Hospital Medical Center outside of downtown Los Angeles, a hospital spokesperson told the Los Angeles Times.That surgery lasted more than seven hours, starting at around 2 p.m. and going into the evening.
His vocal cords were reconstructed and his larnyx was realigned. He was communicating through writing and hand signals, and is being fed through a tube in his stomach, according to the Los Angeles Daily News.
"This is a very, very rare injury," said Dr. Gudata Hinika. "These are the types of injuries that happen with people who did not wear a seatbelt. From weightlifting, it's very rare. The reconstruction he had is really wonderful. We're pleased.

"Had that been any one of us, we would not have survived. His neck was so muscular, so solid, it helped him. Also, he was able to calm down and do what he needed to do. His physical condition contributed toward his outcome."
An assistant strength and conditioning coach was acting as a spotter but was not able to stop the accident at the school Monday morning, according to the Times.
"It hit him with a lot of force, and it hurt him," coach Pete Carroll told The Associated Press after the Trojans' brief practice Monday night. "No broken bones as far as I understand, but he's got some damage in there somewhere, and they're working it out, trying to figure out what it is."
According to reports from those close to the team, Johnson's injury was not life threatening. While early reports said Johnson's football career was over, doctors said he will make a full recovery. However, he will not return to the field for USC this season, they added.
"There were a bunch of guys in the weight room with him because it was a normal workout," Carroll said. "A bunch of them jumped in right off the bat and one of our stength coaches was right there doing the drill with him. So he was cared for immediately. But it was scary."

Johnson has been USC's pound-it-out back, and has 157 yards on 32 carries (4.9 per carry) this season and leads the running back corps for the Trojans with five touchdowns, including the game winner against Ohio State. He had 705 yards and nine touchdowns last season. On an offense that has been inconsistent and not getting it done this season, Johnson has been one of the few consistent bright spots (something few Trojan fans expected after a tough freshman year for Johnson in 2006).

Johnson is a senior at USC who came out of Dorsey High. At Dorsey he set the L.A. City career high school rushing record with 5,777 yards and 58 touchdowns. His father, Stan Johnson, was a long-time assistant track coach at the school.
"I've seen players have the bar slip and fall onto their chest, but never in my 25 years of coaching have I heard of someone dropping a bar on their throat," USC's strength and condition coach, Chris Carlisle, told the Times.
Copyright FREEL - NBC Local Media