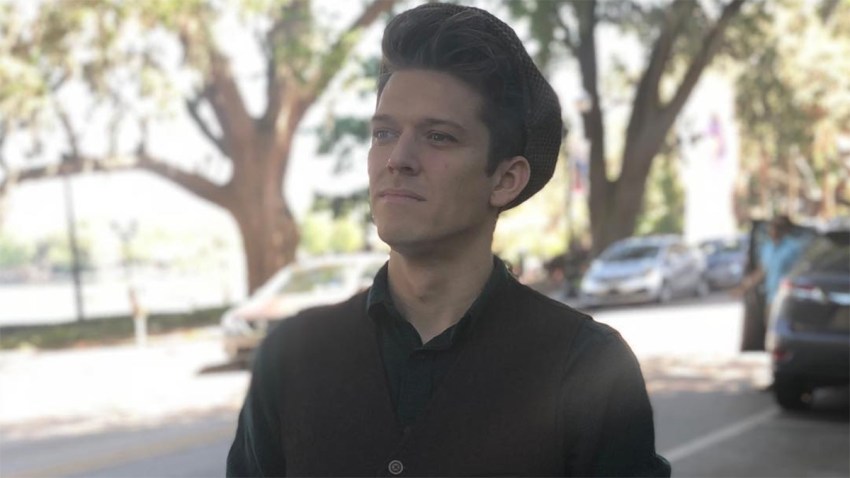 It's pretty common for parents to meddle in their adult children's love lives, but after one Florida woman used her single son to make a political statement about the #MeToo movement, her son felt he had to respond.
Marla Reynolds Carr wrote Oct. 6 that her son Pieter Hanson, a 32-year-old Navy veteran from Orlando, won't go "on solo dates" because of "false sexual accusations by feminists with an axe to grind."
The tweet seems to refer to the sexual misconduct and assault allegations made against recently confirmed Supreme Court Justice Brett Kavanaugh. Kavanaugh vehemently denied the accusations at a hearing where Dr. Christine Blasey Ford, one of his accusers, recounted her experience.
Supporters of #HimToo, which gained popularity during Kavanaugh's hearing, argue that the judge is an innocent man falsely accused in a #MeToo climate that supports sexual assault survivors and vilifies all men.
That tweet has since been deleted, and Hanson felt it misrepresented him. He created a Twitter account @Thatwasmymom to clarify how he feels. The account has now evolved into a platform for his outpourings of support for people fighting cancer and photos of cute cats.
Dubbing himself "a proud Navy vet, Cat Dad and Ally," Hanson said he supports women who have shared their experiences of sexual assault.
"That was my Mom," Hanson wrote in the account's first tweet. "Sometimes the people we love do things that hurt us without realizing it. Let's turn this around. I respect and #BelieveWomen. I never have and never will support #HimToo."
Since its creation on Tuesday, the account has gained more than 39,500 followers.
Hanson's clarification didn't stop the wave of "This is my son" memes that erupted on Twitter in response to Carr's original tweet.
Twitter users have accompanied pictures of theirs pets, famous movie characters and TV personalities with "This is my son" descriptions parodying Carr's original tweet.
[[496603291 , C]]
"Also, Twitter, your meme game is on point," Pieter Hanson complimented.
Hanson's older brother, Jon Hanson, 35, told "Today" the situation is "the ultimate gift" for teasing his younger brother, who he said is "overwhelmed and tired" because of the massive social media response.
"But he's being a really good sport, and trying to make it a positive thing," Jon Hanson said. "It's still so funny to me. I told the story so many times."
Jon Hanson also said this isn't the first time their mom has tried to score them a date using social media.
"She's done it to us, but nothing political before," Jon Hanson, who is currently engaged, said. "But she'll write things like, 'Gosh, my sons are good guys. Why are they still single?'"
Jon Hanson also tweeted a screenshot of a 2015 Facebook post in which their mom said she was "so proud" of Pieter Hanson, "one of the handsomest guys in the world."
Despite deleting her Twitter account, their mother has also been able to laugh at the situation, according to her older son.
"I think we're all getting a laugh out of it right now," Jon Hanson said in an interview this morning. "I talked to her an hour ago. She is upset but we got her to laugh."
Pieter Hanson, a University of Central Florida business student with plans to open a brewery, is using his new handle to correct the misrepresentation shared in his mom's tweet.
[NATL] 'Believe Survivors': Protests Mount as Kavanaugh Confirmed to Supreme Court
A scroll down the @Thatwasmymom page will reveal photos of his cats Monkey and Chalupa and retweets of other people's stories about battling and surviving cancer. Pieter Hanson's younger brother Cooper is a non-Hodgkin lymphoma survivor.
In one of his more recent tweets, Peter Hanson called on his followers to help him maintain the good vibes and said he was "overwhelmed and humbled by the outpouring of love, positivity and cat photos."
"If you have positive things you want me to share let me know! Oh and more cats!" Hanson wrote.