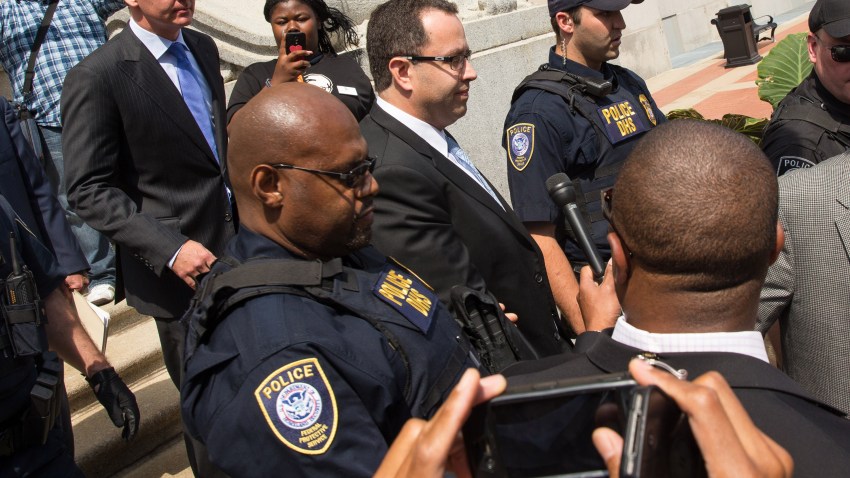 When documents were unsealed in Federal Court in Indianapolis Wednesday, it became clear that the government's case against former Subway pitchman Jared Fogle was rooted firmly in a parallel investigation of a man named Russell Taylor, the former director of Fogle's foundation, and according to court documents, his partner in numerous episodes involving sexual images of young children.

Taylor was charged last May. An affidavit filed in support of a search warrant of his home, stated that a woman identified as Jane Doe came forward, saying that Taylor offered to send her images or videos of young girls, during a series of text messages that included "discussions of sexual matters, including bestiality and sadistic or masochistic abuse."

"During the course of the interview, Jane Doe stated Russell Taylor asked her if he and another adult female she identified could come to Jane Doe's residence and engage in sexual activity with a horse," the affidavit stated. When asked if she thought Taylor was joking, the woman reportedly stated, "You could tell he was serious."

The document indicated that Taylor stated that he had traveled to Thailand in the past, a known destination for child sex tourism. And that the woman's phone revealed text messages mentioning websites that depicted images of men and women "engaged in sexual activity with various animals."

It was during a search of Taylor's home relating to the bestiality allegations, that investigators discovered "multiple video files of nude or partially nude minor children in bedrooms and a bathroom." The affidavit noted that many of the children did not appear to be aware that they were being filmed. Police also discovered commercial videos, one depicting a nude girl who appeared to be approximately 12 years old.

"Russell Taylor gave a recorded statement to law enforcement," the document states. "He admitted that he placed a clock radio containing a hidden camera in a child's bedroom."

Investigators further stated that Taylor told them that in the past he had placed clocks with concealed cameras in various rooms of the house.

Jared Fogle is never mentioned in the Taylor affidavit, and in fact, Taylor's role in the Fogle Foundation is never discussed. But in charging Fogle, federal prosecutors said yesterday that the Subway pitchman was aware of Taylor's actions, and that at least twelve children had been taped at Taylor's residence without their knowledge.

"The Defendant (Fogle) knew that the minors depicted in these images or videos were under the age of 18 years, including minors as young as approximately 13-14 years," they wrote. "In some cases, the Defendant met the minors during social events in Indiana."

In charging Fogle, prosecutors made clear that he was fully aware of many of Taylor's activities. The Taylor affidavit states that when agents raided his home, they discovered at least 12 text documents on his computer with stories about "bestiality and incest, including sexual contacts between fathers and daughters." The Fogle charges include no such allegations.

The document says four children were depicted in videos found in Taylor's house. One was between 14 and 16 years old, a second between 11 and 13. The third was believed to be 9 to 11 years old, and the fourth as young as 14.