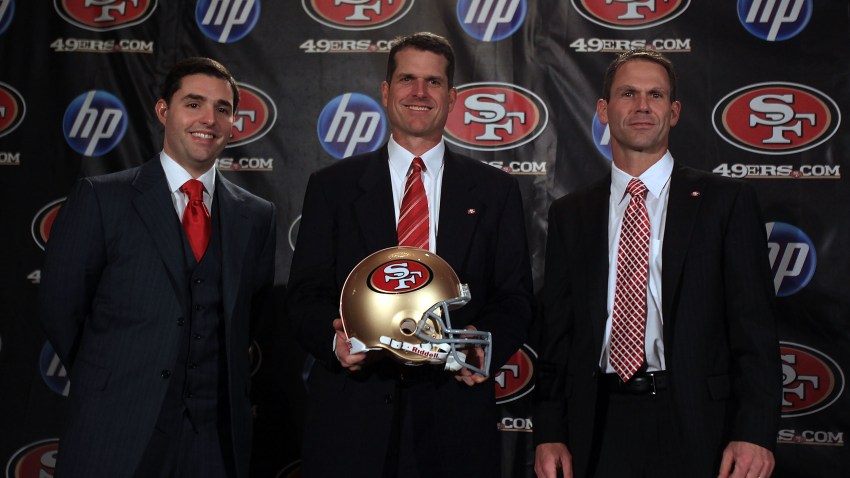 In the NFL it seems the success or failure of franchises flows down from the top.
Inept ownership and bungling general managers can steer teams out of the playoffs and Super Bowls for decades and leave their fans frustrated and fuming. Meanwhile other franchises build a winning foundation from the top down. Every season those teams are in the playoffs or in the running for another ring.
Finally, in San Francisco it appears the Niners have such a foundation.
Under first-year coach Jim Harbaugh and GM Trent Baalke, San Francisco went 13-3 this season, won the NFC West and earned a No. 2 seed in the NFC playoffs, with the right to host a divisional playoff game Saturday, Jan. 14 at Candlestick.
In the wake of this season's accomplishments, both owner Jed York and Baalke are earning kudos for what they've done.
Former team owner Eddie DeBartolo Jr., the architect of the Niners' Super Bowl runs with Joe Montana and Steve Young, looks at this year's team and sees York's wise leadership.
"Jed has done what every owner in the league should try to do, and that is stay out of it," DeBartolo told the Sacramento Bee's Matthew Barrows. "To do that at his age? That says so much. I'm so impressed and so happy for him."
Of course DeBartolo may be a bit biased. York, 30, is his nephew. But the former owner praises York for giving the control of the team to a football man – Baalke – and then stepping aside. For NFL owners, sometimes that's difficult to do.
DeBartolo told Barrows he was impressed how York set the stage for this turnaround season by bringing Harbaugh and Baalke together, letting them know what his vision for the team is, and then, wrote Barrows, "Sat back and let Harbaugh and Baalke talk football until the sun went down."
DeBartolo says he believes York has put his trust in a good combination, Baalke and Harbaugh, just as he did years ago with execs John McVay and Carmen Policy and coaches Bill Walsh and George Seifert.
"I have a feeling about this team," DeBartolo told Barrows, comparing this version of the 49ers to the 1981 team that also went 13-3 and went on to win the franchise's first Super Bowl.
Baalke, meanwhile, is likely in line for NFL Executive of the Year in his first full season as GM.
As Cam Inman of the Bay Area News Group reported, Baalke spoke on 95.7 The Game earlier this week, and said how satisfying and enjoyable this season has been.
And why not? After hiring Harbaugh and a successful coaching staff, bringing back Alex Smith – who had his best year – making a productive draft and picking up some key free agents, the Niners are still living a dream season.
Yet Baalke gave the coaches and players all the credit, and said, "It's a young team but it's got a mature focus to it."
"They've done an outstanding job coming together," Baalke said. "Believing in each other, believing we could get this thing accomplished. When things didn't look good in certain games, they kept with it, kept grinding. The coaches kept searching for answers and the players kept believing. So when you got that kind of dynamic, the rest of it's pretty easy."