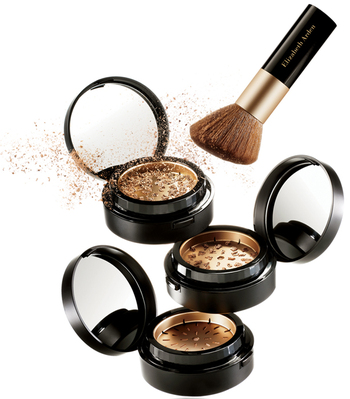 While we love the foolproof application and softly-airbrushed look of mineral makeup, we're less enamored with actually applying it: the multiple steps, myriad pots & brushes, and in some cases, facial sprays; and throughout, you're precariously balancing a separate mirror in the mix, all the while praying the various tubs of powder and their respective lids don't accidentally tumble to the floor (or worse). Which is why Elizabeth Arden's new Pure Finish Mineral Powder Foundation SPF 20 is such a streamlined find.
That typical powder mess? No more. (Ever wondered about the staying power of these type of foundations? Just spill some on your carpet and try getting it out.). Instead, Pure Finish lets you determine your degree of coverage with an innovative built-in grinder which you twist to the right to release a little or a lot. Then swirl a bit onto the plush angled brush, tap off the excess, and apply. It also comes with a fiendishly clever folding mini-brush which opens flat to fit right into the top of the compact.
"When we developed Pure Finish, we wanted to create a new, innovative approach to minerals," explains Bonnie Beer, VP of Global Color Marketing about this blendable, buildable formula which relies on microspheres of pigment suspended in light-reflective minerals like mica and silica for a luminous, non-madeup look. "Of course we wanted to provide a luxurious and non-drying formula for our consumer as well as address her concerns about mess, waste and purity. With its built-in grinder, we offer the ability to grind a single use application each day, like fresh ground coffee. That means she is getting the freshest, purest product each time with no waste or mess. It's pure perfection."
Available at ElizabethArden.com.
- Lesley Scott
sh_domain = 'fashiontribes.typepad.com';
RELATED STORIES:

...& don't miss:

Copyright FTrib - FashionTribes