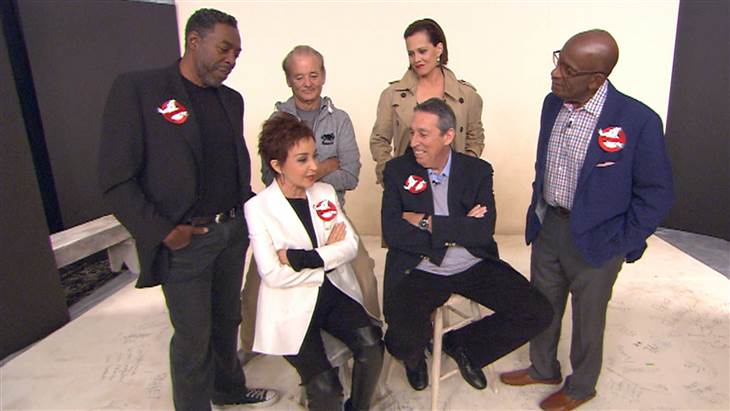 It's hard to believe it's been 30 years since "Ghostbusters" premiered in theaters.
To celebrate the film's legacy, director Ivan Reitman and cast members Dan Akroyd, Ernie Hudson, Bill Murray, Annie Potts and Sigourney Weaver reunited for an Entertainment Weekly photo shoot – and NBC's "Today" got an exclusive behind the scenes look. Harold Ramis died in February at age 69, though it's unclear why William Atherton and Rick Moranis do not appear on the magazine's Nov. 17-21 cover.
The original "Ghostbusters" became an empire, starting with a 1989 sequel, "Ghostbusters II." It launched two animated TV shows, "The Real Ghostbusters" and "Extreme Ghostbusters," plus several video games.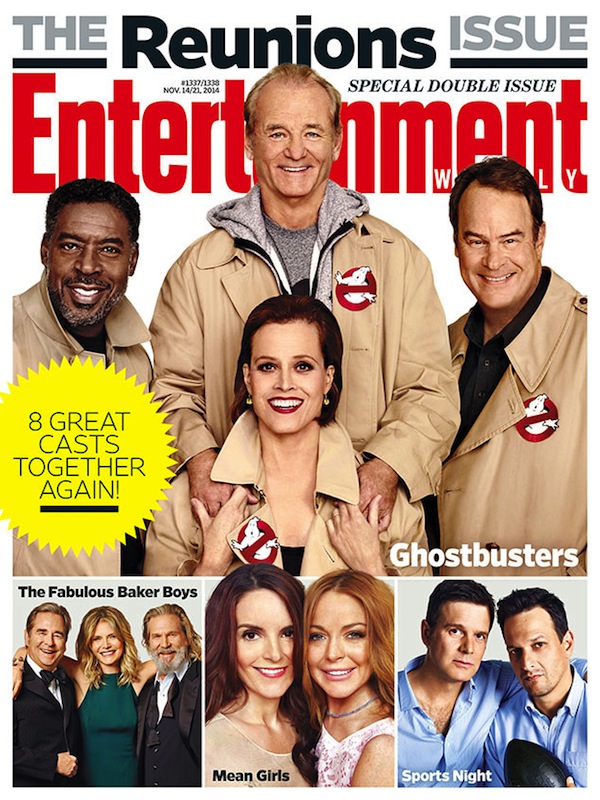 Al Roker, who said he's watched "Ghostbusters" more than 100 times, sat down with the cast for "Today." Murray predicted that the cast would reunite after 30 years, saying, "I knew it was going to be a huge movie. At that point, we were still watching 'Yankee Doddle Dandy' on TV, so I thought we had a shot."
Weaver also revealed which lines were ad-libbed.
Asked to list the ingredients used to make slime in the movie, Murray recalled that it includes "corn syrup and starch and some sort of an adhesive and a kind of a poison that's used on chinch bugs."
NEWS: Will Emma Stone and Mindy Kaling be in the new "Ghostbusters" movie?
Hudson learned valuable lessons by watching Murray interact with New York City locals. "He just sort of embraced it and, you know, all the years after I – it's how I relate to fans," he recalled. "I was watching how he just – they loved him. And he always gave back. And I was always really impressed with that."
Asked why the original cast hasn't reunited onscreen, Murray joked, "I say the money's not right!"
In all seriousness, he said, "It's really hard to recreate something that was so beautiful, so wonderful."
"The studio would like to make a movie and continue the franchise, and I hear that there's going to be one that's all women," said Murray, as Weaver suggested two titles: "Ghostbabes" and "Ghostbuster Babes."
Paul Feig is rebooting "Ghostbusters" with "hilarious females." The roles have yet to be cast, though Lena Dunham, Mindy Kaling, Melissa McCarthy and Emma Stone have expressed interest in being in the movie. As for whether the original characters will be allowed to make cameos, Feig recently said, "Those are my comedy heroes. So as far as I'm concerned, anybody wants to come back I welcome with open arms. It would just be in different roles now, but it would be fun to figure out how to do that."
The new movie will be an origin story. "I love the first one so much I don't want to do anything to ruin the memory of that. So it just felt like, let's just restart it because then we can have new dynamics," the movie maker revealed. "I want the technology to be even cooler. I want it to be really scary, and I want it to happen in our world today that hasn't gone through it so it's like, 'Oh, my God! What's going on?'"
NEWS: Which TV cast just reunited in Paris?
Entertainment Weekly's annual reunions issue also profiles cast members from "The Fabulous Baker Boys," "Little House on the Prairie," "Mean Girls," "Monty Python," "Napoleon Dynamite," "Sisters" and "Sports Night."
"Today" will air exclusive on-set interviews every day this week.
(E! and NBC are both part of the NBCUniversal family.)
Copyright E! Online