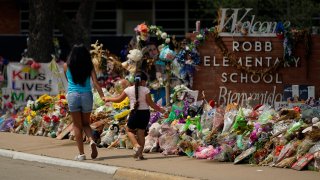 The 2021-22 school year saw the highest number of gunfire incidents in the United States in nearly a decade, with incidents more than tripling from the previous school year, according to a report released Friday.
Everytown For Gun Safety, a nonpartisan group advocating against gun violence, said that between Aug. 1, 2021, and May 31, 2022, there were 193 "incidents of gunfire" on the grounds of preschools and K–12 schools.
The number of incidents in 2020-21 was 62, the report said. The previous high was 75 incidents in 2018-19.
The group began tracking school gun violence in 2013.
For more on this story, go to NBC News.