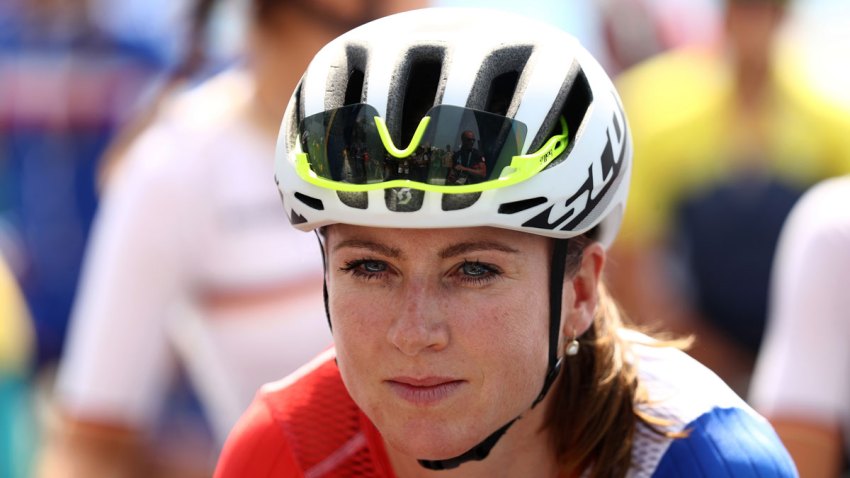 A Dutch cyclist thanked her fans for their support after she suffered a frightening crash during the women's road race final in Rio on Sunday.
Annemiek van Vleuten was leading the race for gold when her tires appeared to skid out from underneath her. She tried to stop the slide, but flew headfirst over the handlebars of her bike and hit the curb. Her teammate, Anna Van Der Breggen, went on to win the race.
"Thanks for all the messages! Congrats to @AnnavdBreggen! We were a super strong team today with @ellenvdijk and @marianne_vos," she tweeted Sunday.
People who watched her lie motionless after the horrific crash tweeted their well wishes to the athlete.
Van Vleuten was still in the hospital Monday morning, waiting for news of her release.
"Still in the hospital. Waiting for some research&hope I can leave today. Knowing that this chance is 1 in 4 years, doesn't make it easy."
On Sunday, the Dutch cycing federation tweeted that she suffered three small fractures in her spine as well as a severe concussion.
The 33-year-old tweeted Sunday night that she was "super disappointed" but assured fans she was on the road to recovery: "I am now in the hospital with some injuries and fractures, but will be fine. Most of all super disappointed after best race of my career."
The first two days of the Games have been rough for several athletes.
[NATL] Day 3: Highlights From the Rio Olympics
Italian cyclist Vincenzo Nibali, who was leading the men's race on Saturday, and Columbia's Sergio Henao both crashed. Nibali broke his collarbone and Henao fractured the upper part of his pelvis in a wreck.
French gymnast Samir Ait Said snapped his leg on Saturday, fracturing his tibia during the vault at the men's qualifying rounds.
And Great Britain gymnast Ellie Downie suffered a scary fall onto her neck during floor exercise. She was led off the floor by medical staff but returned for vault and qualified for the all-around final.
The Associated Press contributed to this report.