A hoverboard intended as a Christmas present "burst into flames" Monday in the East Bay city of Brentwood, California, frightening family members and charring the home's kitchen wall.
It's the latest of about a dozen hoverboard fires that have raised concerns around the country and is now at the center of a federal investigation.
Six sisters and their mother, stepfather and uncle were all home Monday night when one of the sisters plugged in her week-old hoverboard to charge it around 10:40 p.m. The device, an early Christmas present, started poppling and crackling, the family said.
The 15-year-old, who attends Freedom High School in Oakley, dragged the hoverboard onto the carpet and tried to remove it from the house, but she wasn't fast enough, according to her sister, 18-year-old Aliyah Denny.
"I was sleeping," Denny said, "and I saw flames going up wall. I brought sister outside. My mom called 911."
The self-balancing scooter "burst into flames," Denny said. Her uncle ran out and grabbed a pot of water, pouring it over the board as her sister watched, screaming.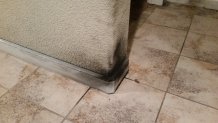 The flames charred some floor tiling and walls along the foyer leading to a bedroom. Denny said her family called firefighters to douse the remnants of the small fire.
Denny, who attends Cal State East Bay, said her family bought two of hoverboards for $235 on Amazon, which announced Monday it would no longer be shipping self-balancing scooters because of the fire risk. The online retail giant has also pulled many brands from its site.
Denny described the hoverboard's brand as "weird" and difficult to decipher because three names are listed on the packaging. The box says "Smart Balance Wheel," the manual says "Speedstar" and the board itself is marked "Self-balancing (sic) Electric Scooter."
"They really need to be cautious on what they are selling to people," Denny said. "It's really not worth killing someone."
Smart Balance Wheel, based in China, did not immediately respond for a comment Tuesday.
While the family's second new hoverboard did not ignite, Denny said they plan to return the device and request a refund.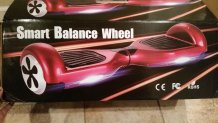 This latest case brings the number of hoverboard fire investigations to 12 in 10 states so far this year, according to U.S. Consumer Product Safety Commission spokeswoman Patty Davis.
Most hoverboard fires have occurred while the devices have been charging. One expert told NBC Bay Area many companies are using poor-quality batteries and chargers.
Davis said she wouldn't speculate on the cause of the fires, but advised against buying hoverboards at a mall kiosk. She urged customers to instead purchase hoverboards from "reputable dealers" and suggested buying models with batteries and chargers that are certified by a national testing laboratory.
According to Davis, the commission is also investigating 39 emergency room cases of accidents and falls stemming from hoverboards. She advised users to wear skateboard helmets, wrist guards and the like to prevent injury.
Major air carriers — including Southwest, American, Delta and United — have also refused to allow hoverboards on board.