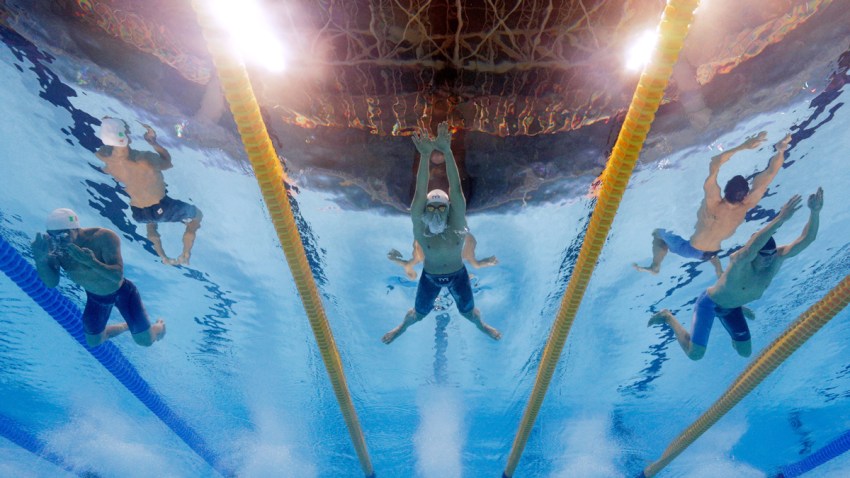 Kevin Cordes and Cody Miller found themselves in a familar position Sunday night: facing off in a high-stakes swim meet.
When it was over, Indiana University alumnus Miller had a bronze medal in the 100-meter breaststroke. Finishing fourth, .35 seconds behind, was University of Arizona alumnus Cordes.
England's Adam Peaty won gold with an Olympic and world record time of 57:13. South Africa's Cameron Van Der Burgh's time of 58:69 earned him the silver.
In June's Olympic trials, Cordes beat Miller by a fingertip – just 0.08 of a second – and both swimmers earned their first trip to the Olympics. In so doing, Cordes set a new American record with his time of 58.94. But Miller, who as a boy was diagnosed with a rare disorder that can dimish his lung capacity, beat perhaps more overwhelming odds to make it to Rio.
Watch Arizona's Kevin Cordes and Indiana's Cody Miller Earn Olympic Berths
Before they met in Omaha, Nebraska, Cordes and Miller were familiar foes in college. In 2014, Cordes bested Miller to win the NCAA championship in the 100-yard breaststroke with an American-record time of 50.04.
Over his career, Cordes won seven individual NCAA titles in the 100 and 200 yard breaststroke, setting school, NCAA and American records in both events en route to 13 All America selections over his four-year career with the Wildcats.
Miller, meanwhile, swam his way to eight Big Ten titles, becoming the third Big Ten swimmer to win three straight conference titles in the 100-yard breaststroke, and winning the 200-yard breaststroke all four years as a Hoosier. In Rio, he will take to the pool as the University of Indiana's first Olympic swimmer since fellow Hoosiers Jim Montgomery, Gary Hall, Charlie Keating and Jennifer Hooker competed in the 1976 Montreal Games.
For all of his success, good fortune hasn't always always accompanied Cordes. As an 18-year-old he missed the 2012 London Games by 0.43 of a second. The following year he disqualified his team by leaving the blocks early in the 4x100 meter medley in the 2013 World Championships, and in 2014 his attempt to remove water-filled goggles disqualified him from 100 meter breaststroke in the Pan Pacific Championships.
In 2015, Cordes moved to Singapore, where he entrusted his future to the tutelage of the 1988 bronze medal winner in the 200 meter breaststroke, Sergio Lopez, who will take the reins of the Auburn swimming program after the Rio Games. Cordes believes his collaboration with Lopez helped him turn the corner.
"Coach Sergio Lopez has been amazing," Cordes told TeamUSA.org. "Going from college, where it was a lot of short-course focus, now toward long course has really helped me get a sense of my strengths about my stroke and applying it to long course."
Cordes owes his very existence to the University of Arizona: His mother Kristin met his father Bill, a backup quarterback for the Wildcats, while the two were students in Tucson. At 22, Cordes's 6'-foot-5, 200-pound body is straight out of central casting for a swimmer, especially for a breaststroke specialist.
The 24-year-old Miller, on the other hand, was raised by a single mother, and is a half-foot shorter than Cordes, with an atypical 5-11 frame carrying his 175 pounds. More unusually, as a boy Miller was diagnosed with pectus excavatum, an often-genetic condition in which the chest appears to be sunken or scooped-out, and which can limit one's lung capacity to up to 20 percent less than those of similar size.
But what might have appeared to be a prohibitive physical limitation instead launched Miller's career: It was pectus excavatum that first got him in the pool as a boy as a means to develop his rib cage and monitor his heart and breathing.
Miller, who describes himself as having a "funky" chest, understands the long odds that he has overcome.
"It goes back to me being small and not necessarily the most talented guy in the pool," Miller said to the Indianapolis Star. "For me to make the Olympics, I had to do everything I could to be the best I could be, to squeeze every drop out of me. I made it a habit and stuck to it."
Indiana coach Ray Looze credits Miller's willpower for his ability to realize his dream.
"Very few people we have coached train harder with more passion and determination than Cody," Looze told the Star. "His meaning to our program is immeasurable and we're so happy for his family and the Hoosier nation on such an outstanding accomplishment."