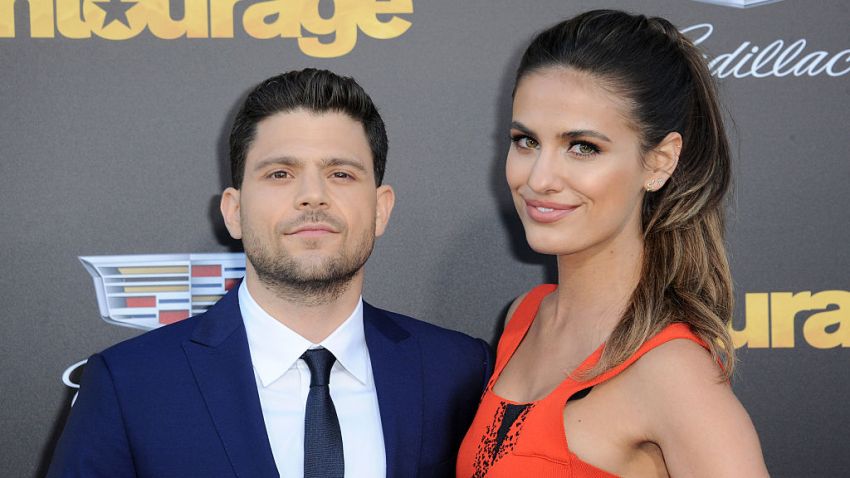 The most important person in Jerry Ferrara's entourage is Breanne Racano.
So, in late July, the Entourage actor proposed to the podcaster and announced their engagement via Instagram Thursday. "I SAID YES!!! Wait I mean... I've had many great blessings in my life," he said. "But this one by far is the best of all time. You are the greatest person I ever met!" Racano, whose diamond ring was front and center, regrammed Ferrara's photo shortly after he popped the question and wrote, "I am so lucky to marry this man. #engaged #isaidyes #fianc."
It didn't take long for the couple's famous friends to send congratulatory messages via social media. "Awwwww congrats my friend!!!!! So happy for you!!!" actress Gabrielle Union tweeted. "I love love." Reno 911! actor Nick Swardson sent a message to Ferrara on Twitter as well, writing, "Congrats bro, happy for you!! (I'm getting drafted very late in Fantasy Marriage)." Former NFL player Sinorice Moss also toasted the actor, 36, tweeting, "Jerry!! Congratulations."
Ferrara and Racano--an actress who appeared in an episode of Entourage in 2011 and had an un-credited role in the Entourage movie in 2015--celebrated their engagement in conjunction with their 100th podcast, titled "Bad 4 Engagements." Speaking to guest psychotherapist Sarah Michael Novia on the show, which was released early Friday, Ferrara jokingly asked, "Is it bad for business to go on your podcast and talk about the fact that you just got engaged?"
Flashback! See the Entourage Cast in 2004
It was a moot point, since Racano couldn't contain her excitement.
"Yay!" the bride-to-be said. "I'm getting married!"
Ferrara later admitted that he had been planning to pop the question since 2015. Ever a gentleman, he asked Racano's parents for their blessing before he proposed to their daughter. "I guess I am traditional in that sense," he admitted. Ferrara finally asked Racano for her hand in marriage on July 31, days after he had originally intended do so. According to the Power star, his original proposal plan was ruined after a game night at a friend's house got too competitive.
Ferrara and Racano have yet to set a date.
Copyright E! Online