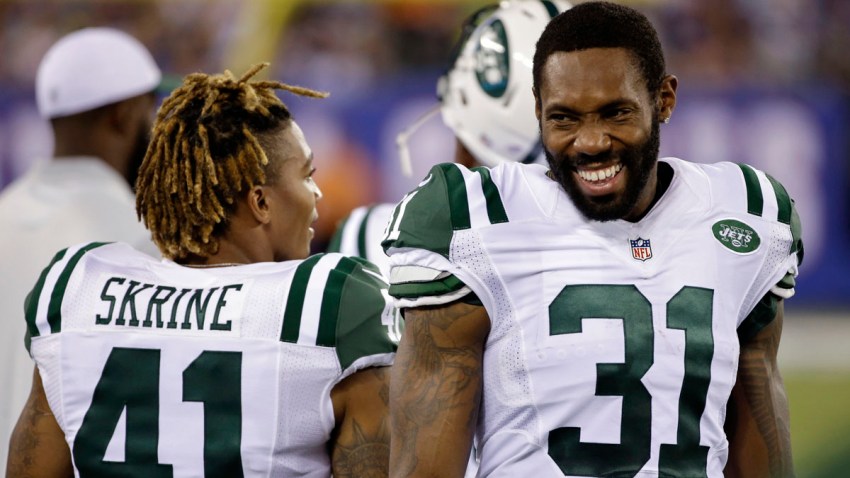 The Jets won their annual MetLife Stadium throwdown over their housemate Giants Saturday night, but their biggest victory of the weekend didn't come until the following day, when an MRI revealed that rookie defensive end Leonard Williams' knee injury wasn't major.
The third preseason game is always said to be the only "real one" because the starters actually see significant playing time, but saying exhibition games even slightly resemble the meat grinder that is the NFL season is like saying you can be the NBA Slam Dunk Champion because you jump over a matchbox car on your way to a 360 reverse on the Nerf hoop in your bedroom.

If it were real, we'd still be talking about how Nick Folk missed an extra point. Hey Nick, I know they moved the line back and all, but come on!
Still, besides Williams escaping severe harm, the Jets came away from the 28-18 win with a few things on which to hang their helmets. After competent but ordinary play during the first half of the exhibition season, QB Ryan Fitzpatrick excelled against the Giants, slinging the ball around to the likes of Eric Decker, Brandon Marshall and DeVier Posey. Posey showed good hands and playmaking ability during his brief time with the Jets -- just enough to be the most notable of the 12 players cut by the team yesterday as the roster was slashed from 90 to 78.
Gang Green's ground game was also strong, with the trio of Zac Stacy, Chris Ivory and Tommy Bohannon all making solid contributions. With running back platoons now all the rage in the NFL, most teams feature a bruiser and a change-of-pace back who makes people miss. The Jets, on the other hand, have three guys that seem happier to run through defenders than around them. It's a good thing, because all of them run with a punishing style that doesn't exactly scream "longevity." However, as a rotation, it's easy to see this crew -- stout (Ivory), stouter (Stacy) and stoutest (Bohannon) -- wearing down opposing defenses over the course of the season.
Then, on the other side of the ball, there are the corners. Big Blue's second-year man Odell Beckham, Jr. may well be the best receiver in football before the coming season is done. But Darelle Revis is already the best CB in the game, and he showed Beckham why on Saturday night, allowing the young WR no breathing room while keeping him within the edge of the sideline. Beckham did beat Antonio Cromartie on a few short passes, but Revis's counterpart corner also had the play of the game, picking off an errant Eli Manning pass and running it back 60 yards for the TD.

Preseason football may be largely meaningless, but the Jets showed their fans a lot to look forward to when the games actually count.