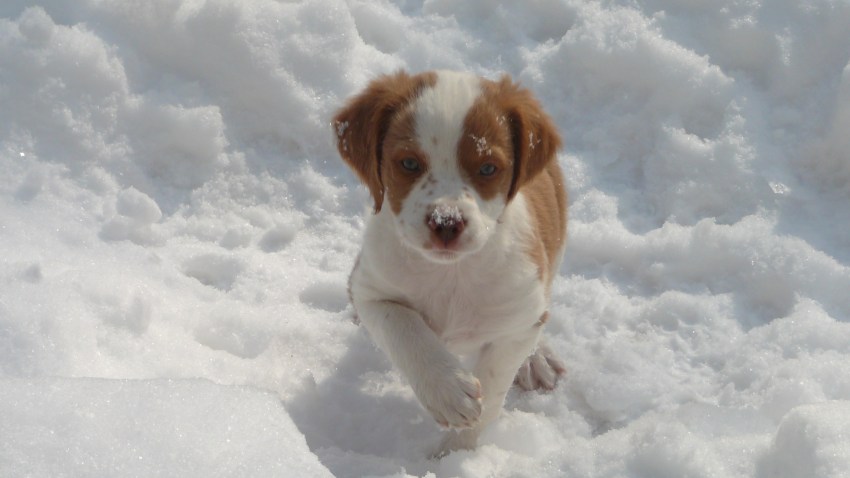 The promo for Sunday's return of HBO's "Last Week Tonight With John Oliver" gently mocks shark-jumping sitcom conventions by saddling the host with a mystery-solving pony and a group of adorable kids to raise.
"I cannot look after a pony," Oliver declares with a dash of his trademark buoyant exasperation, before offering assurances that Season 2 of his evolving news satire show will be "basically the same" as Season 1.
Perhaps Oliver is trying to temper expectations nearly three-months after his most recent installment ended with a comic crescendo recalling some of his best bits: His doggie version of the U.S. Supreme Court (a jab at the justices' refusal to allow cameras in the high court). Muppet-like pals bemoaning imprisoned loved ones (a blistering look at rising U.S. incarceration rates, complete with a Sesame Street-style song). A man-sized dancing astronaut gecko (a musical tribute to the lizards that froze to death in space during a Russian sex experiment gone awry).
U.S. & World
But Oliver's strongest finale segment involved a salmon cannon, which, thanks to some clever editing, he aimed at the likes of Jon Stewart, Jimmy Fallon and David Letterman, among other targets. The cameo-studded sequence marked a sign of Oliver's arrival as a major late night comedy force – and set the stage for "Last Week Tonight" to spawn anew beginning with Sunday's season opener. John Oliver is only just getting started.
He's already come a long way in a short time. The initial editions of "Last Week Tonight" last April were more or less indistinguishable from his summer 2013 stint substituting for Stewart on "The Daily Show." But Oliver quickly emerged as his own fake newsman.
While "The Daily Show" has been cited as a trusted news source for many of its viewers, "Last Night Tonight" introduced some actual journalism into the mix – most prominently when Oliver's team, through documents and phone calls, made the case that Miss America pageant's boasts about providing $45 million in college scholarships are, at best, misleading.
Oliver also sparked debate with other well-researched pieces, including one that laid out the dubious dealings of FIFA, the group that runs the World Cup. His campaign for net neutrality, in which he likened FCC chief Tom Wheeler to a dingo, went viral – and might even have aided the cause. Oliver did it all without skimping on the laughs, getting help along the way from a breakdancing Abe Lincoln, a pole dancing chicken and a sardonic Stephen Hawking, who suggested to the comic there could be a parallel universe "where you're funny."
Oliver's challenge, as implied in the cheeky promo, is to expand his comic universe without resorting to tired gimmicks. He's no doubt looking to fellow "Daily Show" alums Stephen Colbert, who produced a consistently smart and innovative program for nine years, and Larry Wilmore, whose "The Nightly Show" is off to a strong start in the old "Colbert Report" time slot on Comedy Central.
Wilmore, the former "Senior Black Correspondent" on "The Daily Show," brings a welcome voice to comedy news game, as does Oliver, the show's former "Senior British Correspondent," who sees the American landscape through bespectacled British eyes.
He's not always pleased with the view. But his humor is fueled by a grudging appreciation for a country that invents cannon-like devices to help lazy salmon. Those of us lucky enough to catch his recent stand-up act saw Oliver's fascination with U.S. grandiose quirks on display throughout – no more so in a hilarious bit in which he mocked a library in Idaho that put a donated exclamation point in its "Library!" sign.
Brits are known for understatement and reserve. But Oliver's return seems worthy of an exclamation point or two.
Jere Hester is founding director of the award-winning, multimedia NYCity News Service at the City University of New York Graduate School of Journalism. He is also the author of "Raising a Beatle Baby: How John, Paul, George and Ringo Helped us Come Together as a Family." Follow him on Twitter.
Copyright FREEL - NBC Local Media