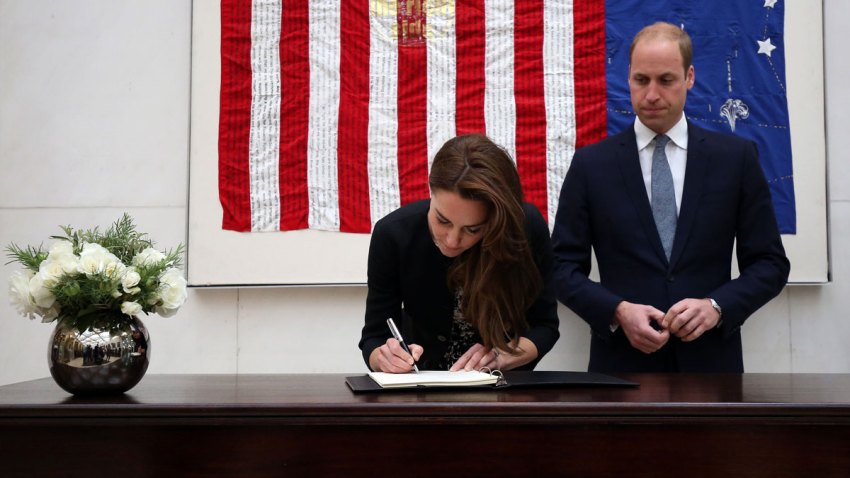 Prince William and Kate Middleton took a moment on Tuesday to pay tribute to those killed in the shooting at the Pulse nightclub in Orlando, Florida, over the weekend.
The Duke and Duchess of Cambridge looked somber as they signed a book of condolences at the American Embassy in central London. They were greeted by the U.S. Ambassador Matthew Barzun before each of them took a moment to send a message to the victims and their families.
After reading Barzun's note, Prince William wrote, "With our deepest condolences and with our thoughts and prayers to all those affected." Kate stood solemnly beside him before eventually signing her name beside her husband's. Behind them, a flag hung that was previously presented to former Secretary of State Hillary Clinton by the Kaleidoscope Trust, an international LGBT rights group.
The Horror in Orlando: Social Media Proves It Has a Real Purpose in Times Like These
The couple also spoke with some of the embassy workers who are part of GLIFAA--LGBT pride in foreign affairs agencies--and donned custom-made badges that featured a combination of the British and American pride flags.
On Tuesday, William also revealed that he's being featured on the cover of the U.K. gay magazine, "Attitude" to speak out against bullying people because of their sexuality.
Though Prince Harry was not in attendance at the U.S. embassy, a source tells US Weekly that he has been "speaking at length to people out in Orlando privately." He recently spent quite a bit of time in the Florida city while leading the Invictus Games.
Omar Mateen opened fire at the gay club on Sunday morning after pledging his allegiance to terrorist group ISIS. The tragedy is now marked as the deadliest mass shooting in U.S. history, killing 49 people and leaving dozens injured.
Copyright E! Online