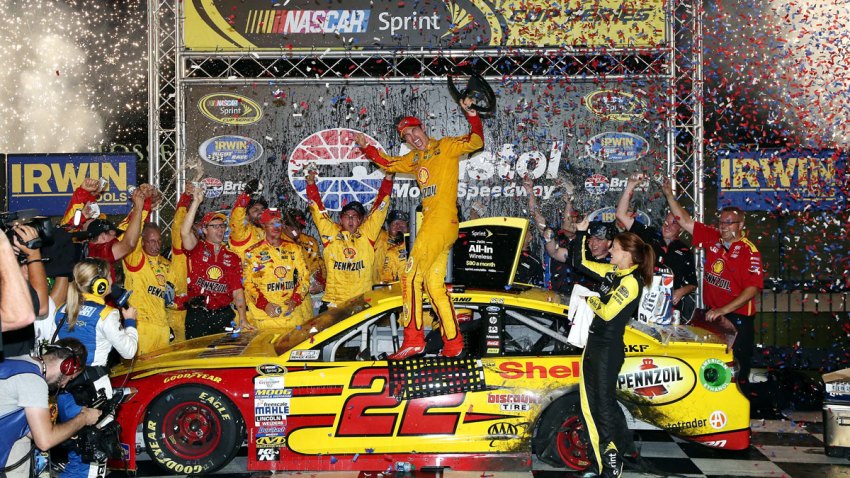 As Joey Logano circled Bristol Motor Speedway, he'd briefly glance in the mirror to watch Kevin Harvick.
Logano had taken the lead on a restart with 64 laps remaining, but Harvick was closing in by using a completely different line. Refusing to get rattled, Logano stuck to what worked for him Saturday and won the Bristol night race for the second consecutive year.
"It was kind of interesting to watch it in the mirror, I was watching him drive in and I was like, 'He's going to get me eventually,'" Logano said. "It's so interesting how we ran such different lines and be the same speed on the racetrack. We both found what works for us, and I really thought we were going to be able to pull away because I thought we were really good in the long run and then we didn't pull away.
"It was a very exciting last 20, 30 laps for sure, and neat to be able to get a checkered flag again here at Bristol."
Logano has won on a superspeedway in the Daytona 500, on the road course at Watkins Glen and now Bristol's short track. He has won twice this month as he readies for the start of the Chase for the Sprint Cup championship.
There are two more races before the playoffs begin.
"We are hitting it at the right time, that's for sure," Logano said. "I feel like we are right where we need to be. I can't wait for the Chase to start."
Logano led 176 laps, second only to Joe Gibbs Racing driver Kyle Busch, who led a race-high 192 laps.
"Our team just executed," Logano said. "That's what we did and that's what we do every week. We just try to keep our heads calm and cool and just run our race."
Harvick finished second for the 10th time this season. The reigning Sprint Cup champion has a career-best 17 top-five finishes this year and had his 250th career top-10 finish in 526 starts.
Copyright AP - Associated Press