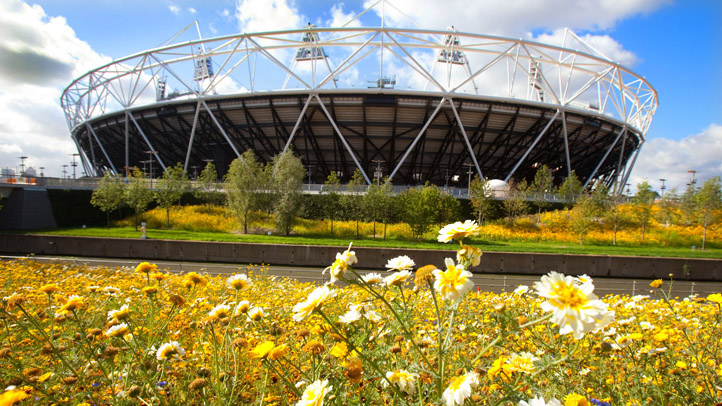 A twisted red metal structure is the first sign of London's Olympic Park on approach from the city's center. The sculpture — a $36 million viewing tower — wasn't there three years ago. Neither were the park's massive sporting venues nor a number of transport routes that converge in Stratford, East London, where the London 2012 Olympic Games will be held.
"Stratford was really a no-go area," said Philip Barker, an Olympic historian and Eastender. "Not the most pleasant or photogenic or safe place."
But since edging out Paris in its bid to host the Games, this small swath of London has been the site of a multi-billion dollar regeneration project that has transformed a once-blighted industrial zone into a striking new site.
While the Games will cost billions of taxpayer pounds, organizers say the legacy of state-of-the-art facilities, improved infrastructure, and a renewed enthusiasm for sports will enrich the city for generations.
It's a tricky case to make during a time of unrelenting austerity cuts and unemployment, but one the city and Olympic planners have ardently pushed ahead. Advertisements and announcements hammer the idea that any structure erected and every bit of the estimated (and debated) $15 billion of taxpayer money invested in the Games will continue to benefit the city long after the flame burns out.
On a recent Friday afternoon, Olympic Park — a 1-square-mile shiny new campus, was desolate. The flying saucer-shaped Velodrome (for indoor cycling) and aptly named Copper Box where the world's top handball players will compete, stood like sculptures in a giant outdoor gallery. When the Games commence July 27 more than 10,000 athletes and millions of spectators will flood the park and adjacent retail area, a separate redevelopment project that has exploded off the Olympic hype.

Luke Smith, a 23-year-old who was leaving his shift at Cabana Brazilian Barbecue, one of some 90 eateries in the bustling Westfield shopping complex, explained that the whole mall had been busy since it opened in September.

"Before this was here everyone had to go to central London," he said. "Now, everyone comes here."

To make sure the same holds true for Olympic Park once the Games are over, Olympic organizers have spent a lot of time drawing up post-games plans for the entire area, including its nine sporting venues. In some cases, this means planning to take them apart, piece-by-piece.
"Some of the stadiums they're going to take away. They're temporary, so they don't have the problem for finding a use for all of them," said Andrew Thornley, professor of Urban Planning at the London School of Economics. "This is quite important. The number of stadiums you need for an Olympic games are far more than you can sustain."
Host cities that didn't plan with as much foresight—notably Montreal in 1976 and Athens in 2004—were left indebted and pockmarked with unused venues. To avoid such a fate, London planners decided to go with a record number of venues that can be removed or scaled down for non-Olympic use.
One of these stadiums is the basketball arena, a rectangular white building that, from the exterior, resembles a frosted birthday cake. When the Games wrap up, the leased venue will be dismantled and shipped off to a place that has a little more love for the sport than the UK does. Both Ukraine and Brazil— which will be hosting the World Cup in 2014 and Summer Games in 2016 — have expressed interest in taking it. The water polo arena will also be broken down and shipped away, while the remaining venues will be converted into stadiums and recreation centers that will accommodate everyone from top athletes to London schoolchildren.
Queen Elizabeth Olympic Park — the name the park will take when it reopens to the public in 2013 —will also be a place to live. Developers have started bidding to construct Chobham Manor, a residential area that will sit between the Velodrome and Athlete's Village.

While most plans are going according to schedule, the fate of the 80,000-seat Olympic Stadium — the crown jewel of any Olympic Games — remains unresolved.

"The big stadium, the main one is always the most difficult because there aren't so many uses for it," Thornley said. "In Sydney they had a problem with that. If they don't find a good use for it afterward, it's a big issue."
The Olympic Park Legacy Company nearly closed a deal that would have handed the stadium to West Ham, an English soccer club. When rival bidders complained, the OPLC decided to scrap everything and start from scratch rather than begin the Games with the biggest stadium's fate stuck in legal limbo. New bids have been placed, but a selection has not yet been made.

Neale Coleman, the Greater London Authority's Director of London 2012, said he was confident that they would secure a long-term tenant in time for the Games.

"Of eight big pieces, six have a secure legacy," he said. "The stadium and the broadcast and media center are the only two. We're trying for eight out of eight."
Beyond Olympic Park, the Games' planners are making use of 13 historical venues that will provide iconic, TV-ready images for international viewers.

The Mall, which the world will recall from Prince William and Kate Middleton's royal wedding procession, will be part of marathon and cycling routes. The Horse Guards Parade, where Queen Elizabeth traditionally marks her birthday, will be filled with sand and spandex-clad volleyball players.

The iconic backdrops, Barker says, "introduces the city to the television viewers … It becomes almost like a little tourist film. It's part of the imagery and marketing of the thing."

Though the Olympic organizers aren't leaving as big a footprint in these existing venues as they are in the East End, the topic of sustainability and legacy are still pervasive.
Men's and women's cycling time trials will start and finish Aug. 1 at Hampton Court Palace — a majestic building, which King Henry VIII had shared with each of his six ill-fated wives. Though not much building or modification is required to ready the site for the races, the obsession with legacy or making sure any investment made for the Games continues to pay off in the future, affected each decision the Palace board made.

The decision to dig a trench to hold the wiring needed for the media's money shot — the British flag soaring atop the palace — was an obvious one. The palace had plans for an IT upgrade anyway and wanted the publicity. Millions of eyeballs on their historical site guaranteed their "promotional legacy," as a spokesperson called it.

As with any major sporting event, there are plenty of Londoners who don't care for the publicity and don't want 10,500 athletes and millions of spectators tromping all over their city and its historical sites — no matter what legacy may be promised.

To the dismay of activists, Greenwich Park, a Royal Park of London dating back to the 15th century, will be hosting equestrian events. A well-organized community group, No to Greenwich Olympic Equestrian Events, waged a hearty battle against Olympic organizers, arguing that preparation for the one-day event would damage and disrupt the park for months. Some concessions were offered, but organizers pushed ahead with their plans and have already started work at the park.

Similar protests have also cropped up in Stratford near Olympic Park.

Outside a coffee shop in the old city of Stratford, Camila Ghimpu, a 27-year-old Romanian immigrant, was taking a cigarette break from her waitressing shift.

"I don't like it. I don't want it to be here," she said, motioning in the direction of the park. "I'm scared of terrorism. And they put all the money into that side. They build everything new on that side. But people from here are poor."

The idea of legacy and sustainability is two-pronged. Economic revitalization is one part of it, but there's the second part of it as well, which pertains to something less tangible but also meaningful.

Across the street, Billy Sewell, 24, a lifelong Stratford resident who just finished a three-year prison stint for gun possession, said he hadn't yet seen the giant shopping complex and Olympic Park, just a short walk from his home and around the corner from where he was standing. A former boxer, Sewell was talking about getting his life on track and setting a better example for his kids. He was ecstatic the Olympics were coming to town and had even scored tickets to the Games.

"I'm taking my little boy, three-and-a-half, to see track and field," he said. "I can't wait."