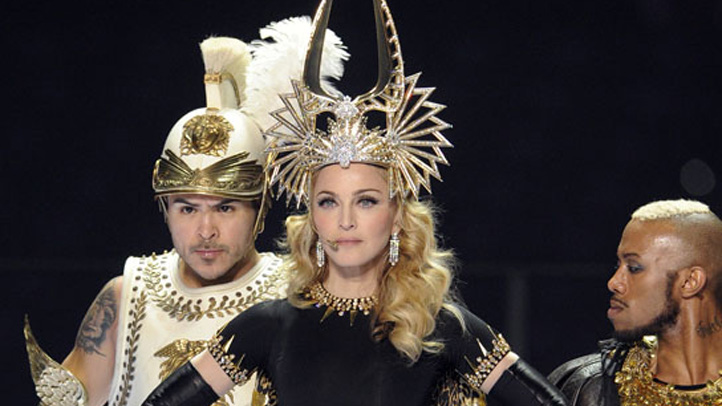 Madonna is getting into the settlement groove.
The Material Girl has tentatively resolved a lawsuit filed by Marlon Brando's estate over her use of the late Hollywood star's iconic mug in video accompanying her performance of her 1990 hit "Vogue," whose lyrics reference Brando.
Per The Hollywood Reporter, the screen legend's heirs sued Madonna last fall claiming the Queen of Pop only licensed Brando's publicity rights for her halftime performance at last year's Super Bowl, not for her current MDNA tour.
The lawsuit came in response to legal action originally taken by CMG Worldwide, a company tasked with clearing all intellectual property rights for Madonna's shows.
In a complaint filed in July, CMG claimed that it reached agreements with the estates of other dead celebrities mentioned in the famous song, including those of Ginger Rogers, James Dean and Jean Harlow, that saw the singer pay $5,000 for use of their image. The firm asked for a court declaration acknowledging that it had an equivalent enforceable deal with Brando's reps.
Not so according to the estate.
Madonna sued for promoting gay rights in Russia
Brando Enterprises hit back with a countersuit in September demanding Madonna pay it $20,000 for the rights. Consequently, because of a "most favored nation" clause with each party, the hitmaker would have been forced to shell out the same to the other estates, making "Vogue" inherently too expensive to perform live as she initially envisioned when crooning, "Marlon Brando, Jimmy Dean/on the cover of a magazine."
Now per THR, both parties have told the court that they've hammered out a settlement in principle, but need more time to execute it. No word on the terms.
Lawyers for Madonna and Brando's estate were unavailable for comment.
Copyright E! Online