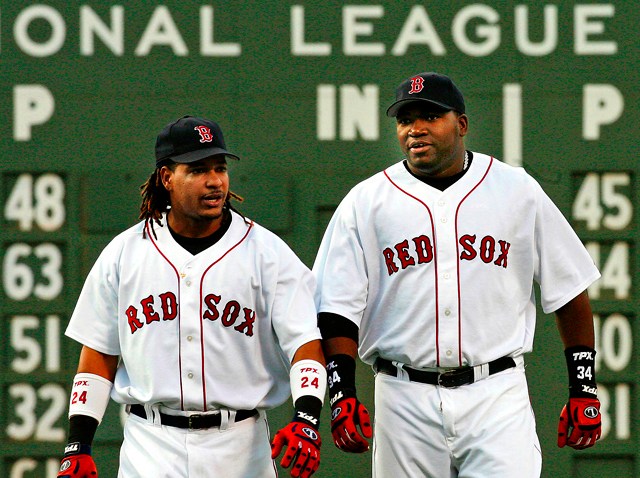 Manny Ramirez and David Ortiz, the dynamic duo that led the Boston Red Sox to World Series championships in 2004 and 2007, are reportedly on the list of 103 players who tested positive for performance-enhancing drugs in 2003.
The news of the sluggers' alleged positive tests came -- on MLB Commissioner Bud Selig's 75th birthday -- from lawyers with knowledge of the results, reports The New York Times.
The testing done in 2003 was part of a program that Major League Baseball launched to see just how widespread PED use was. The players' union agreed to it in large part because they were assured that the results would remain confidential.
Inexplicably, and not surprisingly, names have slowly leaked. Barry Bonds, Alex Rodriguez, Sammy Sosa, Jason Grimsley and David Segui have all been identified as having tested positive that year.
A-Rod was most recently outed by Selena Roberts of The Times, who broke the story in April, ahead of the release of her book, "A-Rod: The Many Lives of Alex Rodriguez."
The news will no doubt be met across Red Sox Nation with a heady mixture of anger and sorrow. After 86 years of futility, they had been delivered to the Promised Land by two giant talents, only to find out two years after their last championship that it may have all been a drug-fueled mirage.
Ramirez finished serving a 50-game suspension heading into the All-Star break for testing positive for using human chorionic gonadotropin (HGC), a women's fertility drug that is commonly used by male steroid users to jump start their body's natural testosterone production.
Ortiz, like most every player who put up big power numbers this decade, has been the subject of whispered rumors and the occasional innuendo, but had never been directly implicated with baseball's PED problem.
"They pick me [to be tested for steroids] every time. I don't know why. I don't know if it's because I'm a big guy, or what, but all I know is all they are going to find is a lot of rice and beans," Ortiz told The Boston Globe in March 2005.