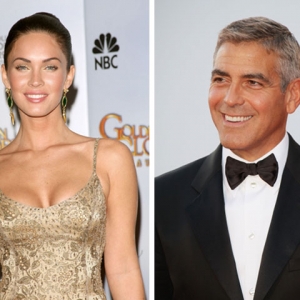 When it comes to which celebrity fans would most like to party with, Megan Fox and George Clooney top the list at AOL's men's lifestyle Web site, Asylum.com.

When asked which female celebrity they would most like to celebrate with, readers picked Megan Fox, who came in first with 40 percent, followed by Tina Fey, who earned an impressive 31 percent of the vote. BFF-searching Paris Hilton, Oscar winner Penelope Cruz and reality star Kim Kardashian rounded out the top five of most party-worthy women.

VIEW THE PHOTOS: The Latest Star Sightings
U.S. & World
In the dude department, 35 percent of readers voted George Clooney as best bud to hang out with when throwing back a few, followed closely by Owen Wilson, who got 32 percent of the party votes. Olympic star Michael Phelps, sushi-loving Jeremy Piven and hip-hop mogul Jay-Z earned spots in the top five.

As for which celeb Asylum.com readers do not want at their party, former-child star Danny Bonaduce topped the "What celebrity would be the biggest downer at a party?" question with 30 percent of the vote.

VIEW THE PHOTOS: 'Transformers' Sexy Siren Megan Fox
See all of Asylum.com's party poll, CLICK HERE!
Related Content from AccessHollywood.com:
VIEW THE PHOTOS: The Always Dapper Gentleman George Clooney
PLAY IT NOW: T.G.I.F. - George Clooney Headed Back To 'ER'?
PLAY IT NOW: 'Transformers' Shia and Megan Speak Out

MORE ACCESS ON THESE TOPICS: Jeremy Piven - Michael Phelps - Kim Kardashian - Penelope Cruz - Paris Hilton

Copyright NBCAH - Access Hollywood