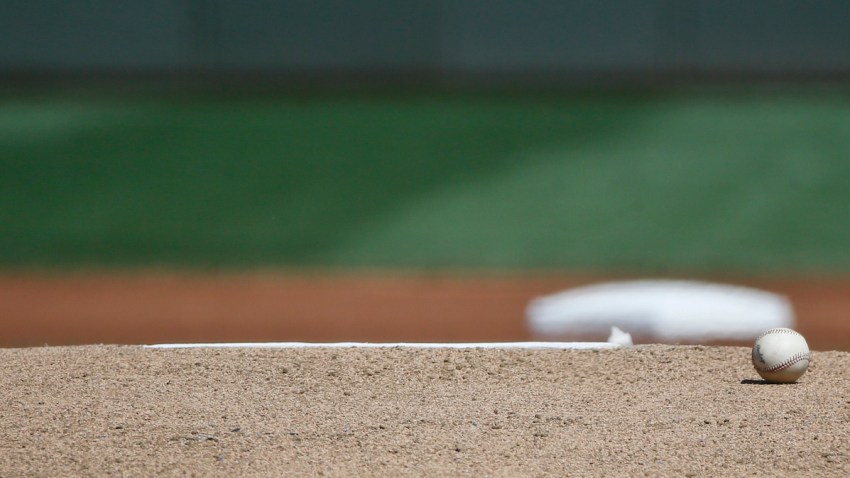 With Major League Baseball's Opening Day right around the corner, celebrities, politicians and professional athletes past and present are warming up for a summer of throwing out ceremonial first pitches.
While a pro athlete, even from another sport, may seem like a natural fit for the game-opening duties, not all know how to throw a baseball. Here's a look at top throws by athletes skilled on more fields than one — and some who missed the mark — from recent years.
Kevin Garnett
Minnesota Timberwolves power forward Kevin Garnett will throw out the first pitch at the Twins' home-opener on April 13. But this won't be Garnett's first walk to the pitcher's mound. The 6'11" star got some practice in August 2007 at Fenway Park one day after being announced as a Boston Celtic. While not a hard toss, his throw was at least on point.
Russell Wilson
Before a June 2013 Seattle Mariners game, Seahawks quarterback Russell Wilson stood on the pitcher's mound with a baseball in hand. It was far from his first time on the diamond. Wilson was selected by the Baltimore Orioles out of high school in 2007, but opted to attend college instead. The Colorado Rockies then drafted him in 2010 and he spent two seasons in the club's minor league system before returning to college for football. At Safeco Field, Wilson threw a 75-mile per hour slingshot just off the plate that amped up Mariners fans.
Chandler Parsons
Dallas Mavericks forward Chandler Parsons, a high school baseball player, looked sharp while throwing a fast one before the Texas Rangers game in September 2014.
Cristiano Ronaldo
But with any good, comes bad.
Real Madrid soccer phenom Cristiano Ronaldo threw the first pitch in an August 2013 game at Dodger Stadium in Los Angeles. Arguably one of the world's best soccer players, Ronaldo appeared to have better foot skills with the baseball than hand-eye coordination as his first toss went wide left of Yasiel Puig's glove. His second attempt was a bit better.
John Wall
Washington Wizards point guard John Wall also added his name to the list of athletes who probably wished for a do-over. His June 2011 throw at a Washington Nationals game sloped left into the grass before National Drew Storen snatched the bouncing grab at the plate.
Michael Jordan
Lastly, five-time NBA Most Valuable Player Michael Jordan threw the ceremonial first pitch at Chicago's Wrigley Field before a playoff between the Cubs and the San Francisco Giants in September 1998. But unlike his historic basketball aim, Jordan's throw wasn't a slam dunk.
This season, only time will tell how professional athletes step up to the mound.