The pilot of the oil tanker that nicked the San Francisco Bay Bridge late Monday morning has been involved in at least three other shipping accidents since 2009, according to a report.
According to state records uncovered by the San Jose Mercury News, Guy Kleess, of San Francisco, ran aground a 550-foot cargo ship in Sacramento, crashed a 600-foot cargo ship near Stockton, and in 2010, was found at fault when a tugboat he was sailing ran aground in the Richmond inner harbor.
His 750-foot oil tanker, called the Overseas Reymar, did not cause any major damage or injuries when it struck one of the Bay Bridge towers late Monday morning. Coast Guard officials said the tanker essentially scraped the base of the so-called "Echo Tower," or Tower 6, on the far east side of the bridge's western span around 11:20 a.m. The visibility at the time was about a quarter mile. The vessel had just left Martinez, officials said, before the accident occurred.
Kleess apparently had already passed an alcohol test, and officials were waiting for a drug test to come back, according to reports. The Coast Guard was set to interview him Tuesday.
Coast Guard Lt. Commander Shawn Lansing said there was no "spill or discharge into the water" from Monday's accident and everyone aboard was safe.
Still, Lansing said, investigators are looking at the integrity of the ship, to make there is no extensive, internal structural damage. There was no damage to the Bay Bridge. The boat suffered a slight fender-bender on the starboard side of the ship, seen in the image below to the right.
But the most important thing to remember, Ney added emphatically: "The Bay Bridge is safe." He described the whole affair as a "scrape."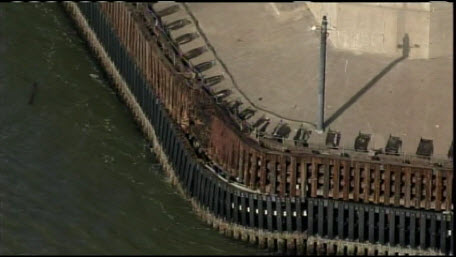 While this incident did not appear to wreak much havoc, the proximity of a tanker so close the Bay Bridge brought up immediate memories of the Cocso Busan.
That huge spill occurred on Nov. 7, 2007, when more than 53,000 gallons of fuel spilled into the San Francisco bay, after the container ship, the Cosco Busan, struck the Delta Tower of the Bay Bridge in thick fog.
Investigators in that case found that pilot John Cota was impaired from his use of prescription pharmaceuticals. He was sentenced to 10 months in federal prison. Then-Gov. Arnold Schwarzenegger declared a state of emergency, releasing a flow of funds to clean up the major environmental damage.