The Alameda County Coroner's Bureau continues to identify victims of Friday's devastating Oakland warehouse fire.
The latest victims names released are Wolfgang Renner, 61, of Oakland; Jason McCarty, 35, of Oakland; Billy Dixon, 35, of Oakland; Johnny Igaz, 34, of Oakland; Ara Jo, 29, of Oakland; Amanda Kershaw, 34, of San Francisco; Griffin Madden, 23, of Berkeley; Vanessa Plotkin, 21, of Lakewood; Hanna Ruax, 32, of Helsinki, Finland; Nicole Siegrist, 29, of Oakland; and Alex Vega, 22, of San Bruno.
Jo's uncle released a statement about her earlier this week, saying she was creative, energetic and deeply involved in the arts community. She was a painter, a tattoo artist and a musician, and she worked at an art supply store and hair salon, often cutting hair for those who couldn't pay, the statement said.
Right before the deadly blaze, Jo was at the so-called "Ghost Ship" warehouse gathering funds for local artists.
"She's got more causes than she has energy, even though she has a lot of energy," Terry Ewing, her boyfriend, said.
Facebook users took to social media and commended Jo for being vibrant and a kind soul.
"I remember being in awe of her exuberance and all the love she brought to her work as a curator and community builder; that unparalleled way of making people feel welcome, included, and cool," Sarah Burke wrote.
Madden was a recent graduate of UC Berkeley, and Plotkin was an undergrad student at the East Bay campus.
Madden's girlfriend, Saya Tomoika, is desperately searching for a photographer who took a snapshot of the couple while they were vacationing in the Big Apple. Tomioka penned that Madden was "the brightest light of all, my sweetie."
Plotkin was studying sociology at UC Berkeley, and she was also the roommate of Jennifer Morris, another victim of the devastating fire.
Connie Sobszak, who commemorated Plotkin on social media as a "truly amazing and beautiful human being," said the student was committed to the "Body Positive" movement, which encourages people to celebrate their value to society as well as appreciate their true identity.
Vega's family had set up a GoFundMe page Monday that had collected more than $16,000 by Wednesday afternoon. The 22-year-old car lover, who also dabbled in the music scene, died in the fire along with his girlfriend, Michela Gregory.
Vega's older brother, Daniel, said Alex Vega was in "the prime of his life" with only the best to come.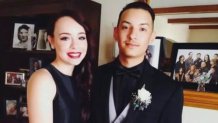 Ruax was also one of the other victims to die alongside their romantic partner. The yoga instructor and self-described designer, stylist and creative director recently posted a picture with Alex Ghassan on Instagram. That post has since been adorned with messages of condolences calling the the two "beautiful souls."
Siegrist's family also started a GoFundMe page that had collected more than $2,400 in donations by Wednesday afternoon.
The music artist, who performed alongside fellow fire victim Benjamin Runnels as part of the synth-pop duo coined "Introflirt," is being remembered as a "beautiful soul" and "free spirit."
El Maldito wrote on Facebook that the tandem formed "an intense duo who were embarking on a great musical journey."
Recently employed at Green Apple Books in San Francisco, Igaz made a lasting impression.
"One thing that we all know for certain is how we fell head over heels for Johnny in such a short time," the staff penned on Facebook. "His charisma and passions were instantly engaging, and he had a welcoming composure that made everyone feel like a friend."
When he wasn't enjoying his "dream job" at Green Apple, Igaz was a fan of spinning records on the turntable.
A dear friend of Igaz, Jesse S. Gallagher, voiced on Facebook that Igaz was "an enlightened, ridiculous, gentle and amazing man" who just so happened to also be the "absolute funniest dude."
McCarty was an artist and musician, according to friends who took to social media to express their grief. Stephanie Bauer described the 35-year-old as "an extremely, extremely talented young man" who was "gone far too soon!"
McCarty's younger brother, Matt McCarty, wrote on Facebook that authorities had informed his parents of their eldest son's death late Tuesday night. Jason McCarty went by the name Jalien Adrien on Facebook.
His "remains were among the victims found in the warehouse/club fire in Oakland, CA," Matt McCarty wrote. "Our family and friends appreciate all the kind words said over the past couple of days. May Jason now Rest In Peace."
More than 200 people commented on McCarty's post and offered prayers and support for the family. Jason McCarty was described as someone who had a "kind heart" and "unique soul."
Emily Kittle wrote that she graduated high school with Jason McCarty and still has "a piece of artwork he created on our senior T-shirt. It's clear that he touched many lives."
Another music lover, Dixon, was originally from the Midwest and illustrated by Mark Simone as being a "magician on the strings and super pal" with a "gentle heart."
An Ohio Supreme Court Justice noted that Dixon "had a smile that would light up the room" and "everyone was always happy when Billy was there," according to an Ohio news station, Dixon's home state.
Chris Allen, the brother of Kershaw, said in a statement that his late sister was "an incredible, beautiful person, daughter, sister and friend" who had made the move from Texas to San Francisco.
Allen added that the "passionate" and "artistic" Kershaw was blessed with "an incredible sense of humor and positivity."
A total of 28 victims names have been released. On Wednesday, officials said search and recovery efforts at the warehouse have ended and the death toll is holding at 36.
On Monday, officials named Em Bohlka, 33, of Oakland; Micah Danemayer, 28, of Oakland; Chelsea Dolan, 33, of San Francisco; Feral Pines, 29, of Berkeley; Alex Ghassan, 35, of Oakland; Michela Gregory, 20, of South San Francisco; Edmond Lapine, 34, of Oakland; Jennifer Morris, 21, of Foster City; Benjamin Runnels, 32, of Oakland; and Jennifer Kiyomi Tanouye, 31, of Oakland.
After the identification announcements rolled in, people flocked to Facebook to pen messages of remembrance and sorrow.
Katherine L. Echols Moore wrote that she met Dolan at a music performance a few years ago, and she was touched by the female electronic artist's hardworking spirit.
"(Dolan) was passionate about supporting other women in the industry," Moore scribed before thanking Dolan for being kind, encouraging and creative.
Steven William Hicks expressed a similar sentiment and wrote, "I will surely miss the presence of a truly lovable and kind person."
Pines, who was one of three transgender women killed in the blaze and described as a lover of art, was commemorated for being patient and kindhearted.
"You taught me a lot about myself, how to be a better friend, how to sew, how to both forgive and make amends," Ezra Kaprov wrote on Facebook. "You welcomed me into your home and into your circle of friends when I had lost my way. You helped me find direction when I was aimless."
Nick Marcouiller composed a post saying Pines "changed my world and I barely knew her."
Henry Lugo wrote on Facebook that "life is getting too real." He said that two friends — Renner and Michelle Sylvan, who has not yet been identified by the coroner — died in the fire. "Glad to have met both of you," Lugo concluded.
Robert Janca too wrote on Facebook that he knew both Renner and Sylvan, who he said were partners.
"Wolfgang was about as free of an individual as anyone is likely to ever meet," Janca said. "When we were close, it was a joy to go and visit him as he was a capable host who made all of his friend's feel welcome and celebrated."
The world will be devoid of color without the pair, according to Janca.
"So long dear souls. Thank you for the treasures you shared. We will see you in Valhalla and in the interim, we will celebrate your rich lives as you would undoubtedly have wanted us to," he concluded.
Gregory, a San Bruno native and South San Francisco resident, was studying at San Francisco State University before losing her life in the warehouse fire. The 20-year-old student's death sparked emotional reactions on social media.
"It's so rare, but she was honestly such a genuine and compassionate human being," Rehat Dubey recorded on Facebook. "It's impossible to express how devastating a loss this is. She made so many of our lives so much better."
Lorrie Benjamin Runnels, mother of Ben Runnels, expressed deep heartbreak after learning that her son, an Oakland resident and musician, was among the deceased.
"He was the brightest shining star and we carry him in our hearts," she voiced on Facebook.
Lori Robinson wrote that she always looked forward to hanging out with Benjamin Runnels at an Oakland piano bar.
"Your talent encouraged me to be a better singer and I loved you for it," Robinson composed in a Facebook post. "I loved your snarky humor and color commentary."
Photos Show Hot Spots and Rescue Operations Inside Oakland Warehouse
Her positivity and "creative spirit" are just some of the personality traits that Jennifer Kiyomi Tanouye is being commended for.
"Jennifer was always such a delight and bright spark," Diane Leahy penned on Facebook.
Allison Leahy noted that Tanouye "was the best friend a little me could have hoped for."
Edmond Lapine, a 34-year-old from Oakland, was beloved for his musical prowess and flair on the dance floor, according to various Facebook posts.
"I told him I wanted to learn to play guitar and he drove me to a guitar store to help me pick out a starter acoustic," Amanda Stauffer penned. "He gave me lessons, and his patience and enthusiasm for the whole project can only be described as saintly in the face of my unwavering lack of discipline."
Aaron Smith summed up Lapine as being a "super cool dude and a chill roommate." He added that Lapine was someone he "could just sit with and talk to for hours on end.
UC Berkeley student Jennifer Morris' Facebook page is inundated with messages of heartache, but compliments and everlasting memories as well.
"I have such an unwavering appreciation for all of the love and genuine self expression that you embody and bring into the world, Frankie Lorenzini drafted.
Danemayer, a native of Somerville, Massachusetts and Oakland warehouse fire victim, listed on his Facebook page that he was a music curator and producer. Back in October, Danemayer indicated that he was searching for "extra cash" so that he could find a new place to live with his girlfriend.
The Aftermath of the Deadly 'Ghost Ship' Warehouse in Oakland
The fire's death toll stood at 36 on Monday, with about 90 percent of the building searched. Officials say they've identified a total of 22 victims and notified their families. They've released 17 names.
An 18th name, Draven McGill, 17, was confirmed Monday by officials at McGill's school in San Francisco. He is the son of an Alameda County Sheriff's deputy.
The seven victims first identified are Donna Kellogg, 32, of Oakland; Cash Askew, 22, of Oakland; David Cline, 35, of Oakland; Nick Gomez-Hall, 25, of Coronado; Sara Hoda, 30, of Walnut Creek; Travis Hough, 35, of Oakland; and Brandon Chase Wittenauer, 32, of Hayward.
The death toll in the warehouse fire may rise in the coming days, officials said.
Kellogg, one of the first people to be confirmed dead, was going to culinary school and worked at High Wire Roasters coffee shop in Berkeley. Her coworkers learned Sunday night that she was killed in the fire.
Kellogg was a former resident of Chico who graduated from Chico High. One friend described her as a freewheeling, free-spirited, candid person.
Wittenauer, better known by his stage name Nex Iuguolo, was an electronic music artist and vocalist for the band Symbiotix Fungi.
Hough was a musician with the Oakland-based electronic band Ghost of Lightning. Hough often went by the stage name Travis Blitzen.
Askew, another musician, was a member of the Bay Area dream pop band Them Are Us Too.[[404676316, C]]
Gomez-Hall was an administrative assistant at Counterpoint Press who called himself a decomposer of music.
Cline was a UC Berkeley graduate, having earned degrees in cognitive science and computer science.
Hoda's friends on Facebook said she was a teacher, gardener and a hardworking person who loved children.
Hoda taught a first through third-grade class at the Urban Montessori in East Oakland. On Monday, Hoda's family attended a small meomrial on campus where students shared stories about their teacher and presented them with cards and art work.
The victims' families have been notified. Other names are expected to be released in the coming days. Some of the victims are non-citizens, officials said.