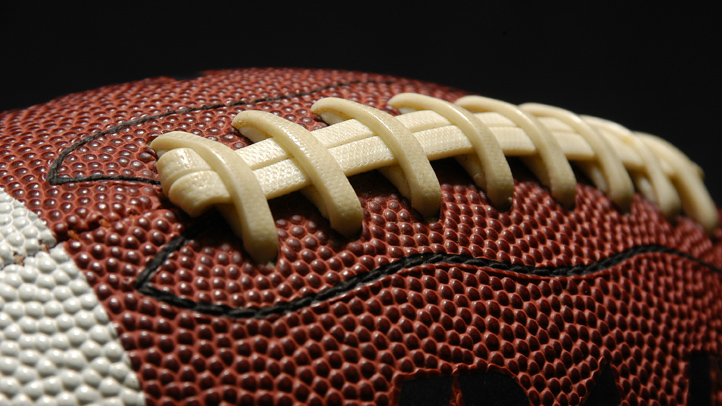 On Sunday, there will be parties. There will be booze and salty snacks and barbecued poultry parts dipped in an assortment of dressings, which may vary by geographic region. There will be ticket scalpers and advertisements, betting and intoxication. There will be traffic accidents and vice as the most-watched game in football gets underway.
This weekend, the San Francisco 49ers take on the Baltimore Ravens in Super Bowl XLVII at the New Orleans Superdome. Here's some game day context, by the numbers:
FOOD

1.23 billion: The number of chicken wings Americans will consume on Super Bowl Sunday, according to the National Chicken Council. That's almost four chicken wings for each man, woman and child in the United States. This actually reflects a decline in consumption from last Super Bowl Sunday when 12.3 million more wings were devoured. But America's not going on a diet. The National Chicken Council's chief economist and market analyst Bill Roenigk attributes the decline in wing consumption to record-high corn prices (thanks in large part to last year's mega-drought and the federal government's requirements that big chunks of the country's corn crop be used for ethanol production). High corn prices drove up the cost of chicken feed, which meant costlier birds, fewer slaughters and a lighter platter of wings at your Super Bowl bash.
65: The percentage of Midwesterners who prefer dipping their wings into ranch dressing as opposed to bleu cheese dressing, which is apparently favored in the Northeast, according to a survey by the National Chicken Council.
9: Ranking of chicken wings on a Nielsen survey that found the top ten most popular foods Americans expect to serve or eat on Super Bowl Sunday. Salty snacks took first place, dips came in second, vegetables took third, followed by cheese and crackers, appetizers, fresh fruit or salad, pizza, candy or sweet desserts, wings and nuts.
15 million: Estimated number of pizzas sold on Super Bowl Sunday, according to Pizza Today.
BOOZE

$1.01 billion: Amount of money spent on beer in the two weeks surrounding last year's Super Bowl at grocery and convenience stores, according to Nielson. That number would be even larger if it included restaurants, bars, hotels and the stadium itself.
It sounds excessive, but according to the Beer Institute, an industry group, beer sales during Super Bowl weekend won't be significantly different than any other sports weekend of the year—from NASCAR weekends to major NHL match-ups or summertime MLB games. They note that the real "beer holidays" that drive a noticeable national uptick in beer sales are Memorial Day and Independence Day—warm, three-day weekends that inspire lots of beach and barbecue time.
40: Percentage of motor vehicle fatalities on Super Bowl Sunday in 2010 tied to drunk driving. That's about ten percentage points higher than the average portion of traffic deaths linked to DUIs for the year, according to National Highway Traffic Safety Administration data. Last year, 27 people were killed on Super Bowl Sunday in alcohol-related crashes.
COMMERCIALS

$3.7 million: The average price paid by advertisers for a 30-second spot on CBS's Super Bowl broadcast, according to Ad Age. Leslie Moonves, chief executive officer of CBS Corp. said that in some cases prices topped $4 million, AdAge reported. That exceeds last year's going rate of about $3.4 million. As usual, cars, beer, movies, manufacturers and soft drinks will appear most frequently in game day ads.

47.1 minutes: Total time of all ads played after kickoff during the broadcast of Super Bowl XLVI, according to Nielsen data. That's pretty close to the amount of ad time in Super Bowl XLIV (44 minutes and 40 seconds, according to Philly.com's calculation). In fact, the Wall Street Journal's calculation in 2010 found, on average, an NFL game includes just 11 minutes of actual football. Ads took up about an hour of time, and the remaining minutes involved shots of players milling about, fans, and images of the stadium.
111.3 million: Number of viewers who tuned in for last year's game, making it the most watched U.S. telecast ever.
NOLA
150,000: Number of football fans expected to pack the city for the game.

5,000: Number of media personnel expected in NOLA.

1,200: Number of New Orleans police officers who will be working 12-hour shifts Super Bowl weekend. They will be joined by more than 300 officers from the state police and neighboring cities, as well as reinforcements from the FBI, Homeland Security and the Bureau of Alcohol, Tobacco, Firearms and Explosives.

17,000: Number of volunteers from the area that signed up to help with the massive preparation and clean-up.
350: Number of people on street-cleaning duty.

$432 million: Estimated revenue hosting the game will bring to New Orleans.

$305 million: Money spent renovating and spiffing up Louis Armstrong International Airport in preparation for all the eyeballs that will soon be upon it.

10: Number of times New Orleans will have hosted the Super Bowl. Only Miami has hosted as many games.
OH, AND THE GAME

2,384: Number of tickets still available on Stubhub on Jan. 30. Tickets range in price from $1,475 to $264,713 for a seat in the 400-level suite.

1st: Super Bowl XLVII will be the first time in NFL, NBA, MLB and NHL history that brothers (Raven's coach John Harbaugh and 49ers coach Jim Harbaugh) will face off as head coaches in a postseason game.

5-0: San Francisco's Super Bowl record.

1-0: Baltimore's Super Bowl record.