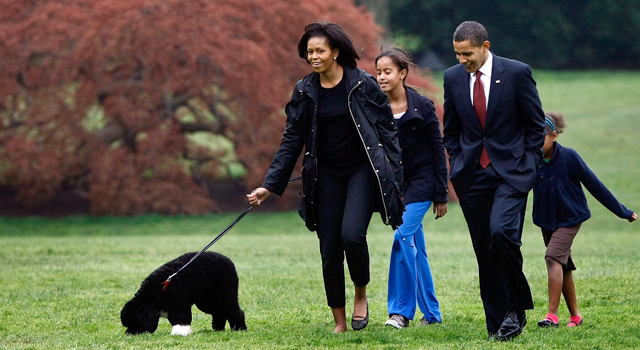 Sasha and Malia aren't fulfilling their puppy promises.
Michelle Obama said Thursday she's the one who looks after new dog Bo -- and that the first kids are neglecting their pet duties, People magazine reported.
"Even though the kids are supposed to do a lot of the work, I'm still up at 5:15 a.m. taking my dog out," the First Lady said at a luncheon for Congressional spouses.
"So for everyone who has a child asking for a puppy – you have to want the dog," Obama said as the audience laughed.
The First Family welcomed Portuguese water pup Bo to the White House last month after weeks of speculation about the newest addition to the Obama clan.
Obama also said at the luncheon that her life in the White House with the kids and Barack isn't any different than a normal family's -- except, of course, her husband's the leader of the free world.
"I feel like I've never left Chicago. Soccer on Saturday – yes, I'm on a soccer field all day just like many of you," Obama told the Congressional spouses.
"Slumber parties. We had about seven girls over, screaming and yelling. And we're shuttling kids back and forth to play dates, just like usual," she said.
The First Lady encouraged the spouses at the luncheon to volunteer -- she and Vice-Presidential wife Joe Biden worked at a Washington, D.C. soup kitchen earlier this week bagging lunches for hungry children in need.