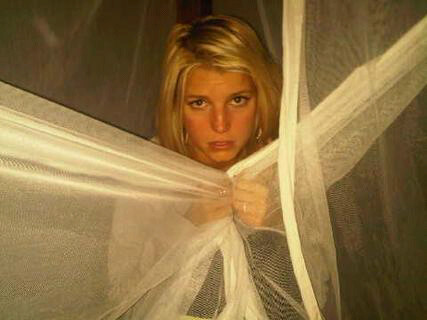 For Jessica Simpson, the price of beauty may have been higher than she expected.
Simpson, removed from her posh L.A. pad, whined about the less-than five-star accommodations in Africa where she spent time in Uganda filming her latest TV series "The Price of Beauty."
The pop princess looked dejected as she gazed out if a mosquito net that surrounded her bed, doe-eyed, in a photo she posted on her Twitter page last week.
"WTF?!? Do I really have to sleep like this?" she wrote on Sept. 23.
Simpson, whose docu-series will begin airing next year, was accompanied by pals Ken Paves and Cacee Cobb. Paves posted a photo of a giant spider on his Twitter page shortly after Jessica wrote her rant.
"Is this the Price of Beauty? Don't let the bed bugs bite!" Paves joked.
Simpson arrived home to the U.S. on Monday night and said though "bedtime in the tent is questionable" she had a memorable time in the African nation.