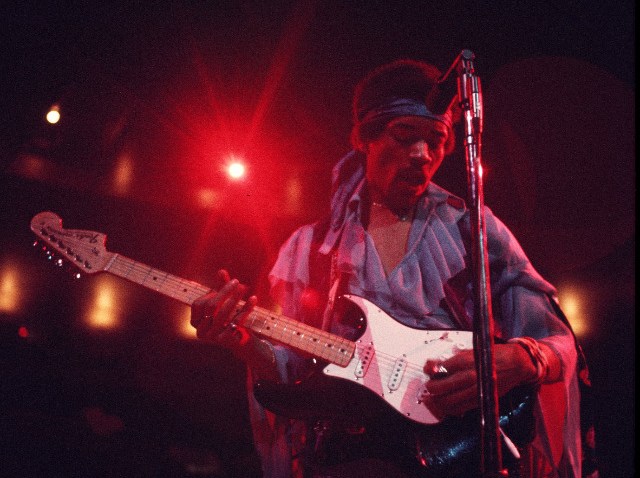 The cross town traffic will probably slow to a crawl for the chance to wander through the former home of a rock legend.
The London apartment of Jimi Hendrix is being opened to the public for 12 days as part of the "Hendrix in Britain" exhibit that will commemorate the 40th anniversary of his death, reports Vanity Fair.
From September 15-26, visitors will be able to stroll through the four-room flat at 23 Brook Street that the legendary guitarist shared with his girlfriend, Kathy Etchingham.
In something of a historic coincidence, Hendrix's flat abuts the former home of George Frideric Handel. The famed Baroque composer lived at 25 Brook Street for 36 years and his apartment is now home to the Handel House Museum. Parts of Hendrix's flat serves as administrative offices for the museum.
As part of the exhibition, the Handel House Museum will display a collection of Hendrix-related memorabilia and host talks on the trailblazing musician's legacy.
Curators for the museum hope to raise enough money to properly restore the apartment to its 1960s state and convert it to a permanent Hendrix exhibition.
By all accounts Hendrix enjoyed the domestic side of London life -- though the appliances were not always up to his modern American standards.
"When they first moved in, Hendrix was horrified to find a 1950s gas fridge, which he thought was the most old-fashioned thing he had ever seen," said Claire Parker of the museum's learning and events office. "They bought an electric one, as well as a yellow Formica kitchen table.
Parker said Hendrix "was quite well known in John Lewis," the venerable London department store.
"It's this other side of him you don't really think about -- Jimi Hendrix shopping for carpets and soft furnishings."
When he wasn't at home, Hendrix was honing his sound and building his reputation through incendiary live shows. He came to London in 1966 after being spotted by producer Chas Chandler playing in a New York bar with his band Jimmy James and the Blue Flames.
He began gigging immediately -- a list of his British shows in the exhibition has scores of entries, from pubs to provincial working men's clubs to the vast Isle of Wight rock festival. In 1967 he released the acclaimed album "Are You Experienced?" and soon was touring internationally, gaining fame for his innovative, heavily distorted guitar style.
"He was an absolute revelation to everyone here," said Handel House deputy director Martin Wyatt. "It was like an earthquake rumbling through the music scene."
"I think for Hendrix London was much more open -- in America he was too white for black music and too black for white music. Here there was a burgeoning blues scene that wasn't that categorized."
The Hendrix exhibition, which runs to Nov. 7, is a bit of a shock next to the muted gray walls, oil paintings and harpsichords of the rooms devoted to Handel's life.
Among the exhibits are the Gibson Flying V guitar that Hendrix played at the Isle of Wight festival in August 1970, handwritten lyrics and a splendid orange velvet jacket and black Westerner hat.
There is also a copy of Hendrix's death certificate. He died in a London hotel on Sept. 18, 1970, aged 27. The certificate gives the archetypally rock 'n' roll causes as "inhalation of vomit" and barbiturate intoxication.
Wyatt said some of the museum's supporters were skeptical at first about the Hendrix display. But he is struck by the similarities between the two musicians.
"They were both great improvisers," he said -- Handel on harpsichord, Hendrix on guitar.
He said that on the occasional past openings of Hendrix's apartment, the guitarist's fans have sometimes stayed to listen and learn about Handel.
"We're hoping the exhibition will open the road the other way."
Selected Reading: Vanity Fair, A.P., NME
Copyright AP - Associated Press