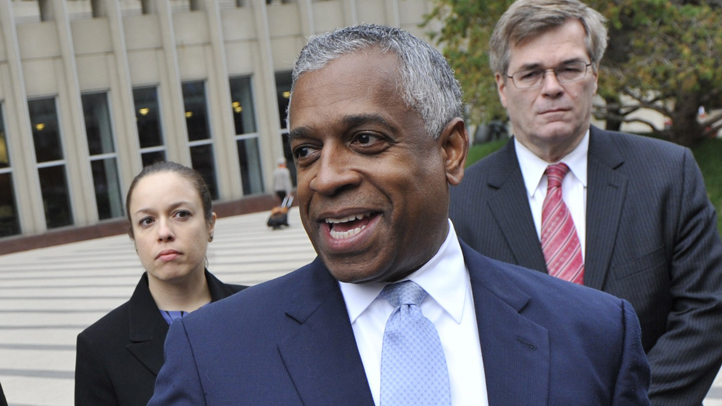 President Barack Obama nominated B. Todd Jones as the next director of the U.S. Bureau of Alcohol, Tobacco, Firearms and Explosives, selecting the top federal prosecutor in Minnesota who has already been serving as the agency's acting head for more than a year.
Obama announced he would nominate Jones as part of a sweeping plan to tighten gun laws, saying last Wednesday that lawmakers should approve Jones for the job "since Congress hasn't confirmed a director ... in six years." The National Rifle Association has not said whether it would support or oppose Jones' nomination to head the ATF, which has gone without a permanent director since gun-rights lobbyists pressured lawmakers to require congressional approval of nominees.
For more U.S. news, visit NBCNews.com.
Jones, whose U.S. attorney's office has pursued dozens of firearms cases since 2009, is largely untainted by a scandal over the "Fast and Furious" gun-smuggling sting operation in which agents lost track of some 1,400 guns, many of which were recovered at crime scenes in Mexico. Jones took over as acting director amid two investigations into the bungled program, and in his first weeks on the job reassigned 11 high-level employees, a shake-up he described as hitting a "reset button."
Still, the senior Republican on the Senate Judiciary Committee, Sen. Charles Grassley of Iowa, said his committee has questions about Jones' ties to the Fast and Furious scandal because Jones chaired an advisory committee to Attorney General Eric Holder from 2009 through 2011, during which the operation was in effect, though that committee has no oversight of any law enforcment operations.
"He'll receive a thorough and fair vetting by the Judiciary Committee," Grassley said.
Jones has said the controversy over Fast and Furious may have diminished trust between U.S. law enforcement officials and their counterparts in Mexico. "That is something that we are going to have to rebuild," he said in 2011.
Jones, 55, was instructed not to speak with reporters until he is formally confirmed.
As the top federal prosecutor in Minnesota, Jones has overseen criminal prosecution of dozens of firearms and weapons cases, according to a review by The Associated Press. One involved Ryan Thomas Sandoval of Minneapolis, who was charged with lying to firearms dealers seven times in 2011 while buying guns. He pleaded guilty to two counts.
In the past year, Jones' office prosecuted, won prison sentences or secured guilty pleas in dozens of weapons cases. Fifty-four people were charged with being a felon in possession of a firearm, up from 50 in 2011 and 40 in 2010.
"I think Todd has been very firm and aggressive on people who use guns to violate the law. He's been very consistent in that," said Hennepin County Attorney Mike Freeman. "He respects the Second Amendment ... but when people use guns to hurt people or commit crimes, they deserve to be prosecuted."
In response to a spike in homicides in Minneapolis in early 2010, Jones joined Freeman and other local officials to launch "Project Exile" to remove violent repeat offenders off the streets. As part of that initiative, federal and state prosecutors meet every other week to examine gun cases and determine whether charges should be brought in federal court, where penalties can be more severe.
A spokeswoman for the U.S. Attorney's office in Minnesota, Jeanne Cooney, said Jones' office has handled 15 cases under that initiative. She said that in fiscal 2012, the office saw a dramatic increase in the length of sentences for violent crimes, with some ranging from 20 to 30 years in federal prison.
Grassley has also raised concerns about Jones' "involvement" in what he called a "quid pro quo arrangement" dealing with false claims in St. Paul. Grassley and other Republicans allege an improper deal between the Justice Department and the city of St. Paul in which the department — against the advice of Jones' office and other career attorneys at Justice and the Department of Housing and Urban Development — agreed to drop two False Claims Act cases against the city in return for St. Paul dropping an appeal to the U.S. Supreme Court in an unrelated case.
The senator says it cost the government a chance to recover more than $180 million in taxpayer money.
Last July, Jones came under fire for statements he made in an internal video, in which he stressed the importance of following rules and said anyone who doesn't respect the chain of command and raise concerns to leadership would face "consequences."
In a letter to Jones, Grassley said the message could be interpreted as a threat to discourage whistleblowers from reporting problems. Jones responded that the video was meant to reinforce the importance of accountability: "At no time was I attempting to discourage, dissuade or prevent employees from making protected disclosures," he wrote Grassley.
In 2009, Jones was appointed U.S. attorney for Minnesota, more than a year after Rachel Paulose left amid a string of management problems. It was a position Jones had held previously, from 1998 to January 2001. Before his first appointment, he was an assistant federal prosecutor and a lead trial lawyer in several drug trafficking, firearms and violent crime cases.
Between his stints as U.S. attorney, Jones, a former Marine, was a partner at Robins, Kaplan, Miller & Ciresi, a major national law firm in Minneapolis where he reported earning $830,533 in 2008 and the first half of 2009, according to a financial statement filed in June 2009.
During Jones' public swearing-in ceremony as U.S. attorney in 2009, Attorney General Eric Holder said Jones had a "passion for justice" and would "restore the credibility of a department that was shaken by allegations of improper political interference."
Sen. Amy Klobuchar, D-Minn., said Jones is fair-minded and has "impeccable character."
"I have found Todd to be a seasoned, highly-respected law enforcement leader," Klobuchar said. "He has brought incredible focus, results, and integrity to each leadership position he has held, including as Acting Director of the ATF."
Jones lives in St. Paul and has continued to serve as U.S. attorney for Minnesota while serving as acting director of the ATF, spending about half of his time in Washington and half in Minnesota.
If Jones is confirmed as permanent director, Obama will nominate a new U.S. attorney for Minnesota.
Obama had nominated Andrew Traver, who heads the agency's field division, as ATF director in November 2010, but the nomination languished in the Senate.
Copyright AP - Associated Press