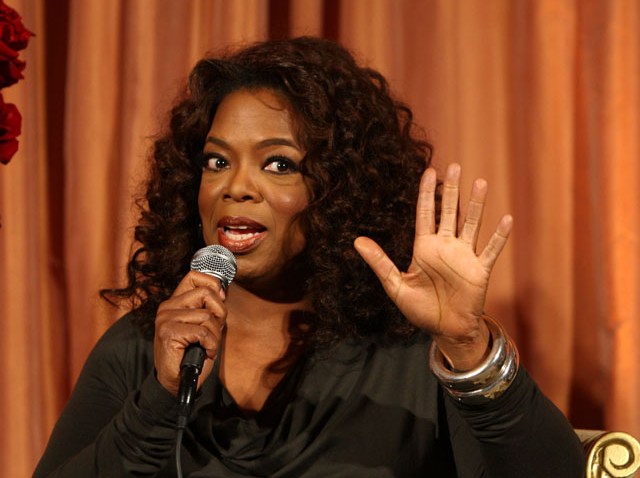 Author Kitty Kelley is used to raising eyebrows, and she did it again on Friday night at a party celebrating publication of her controversial new book, "Oprah: A Biography."

At the party, held in Marina and Daniel Ein's Georgetown home, she declared Oprah herself had been the book's best source. How was this possible, given that Oprah refused to give her an interview?

Kelley got an in-depth view of Oprah from Oprah's own words, she said. Known as a tireless investigative reporter, Kelley said she gathered and cross-referenced every interview Oprah has ever given over the past 25 years -- on TV, radio, newspapers and magazines in the United States and overseas. (The book lists 47 pages of footnotes and bibliography.)

Some members of Oprah's family and her close acquaintances hotly dispute the talk show queen's version of her life in these interviews.
"But I didn't depend on any one person for the facts in the book," said Kelley. "It is a mosaic of the hundreds of people I interviewed and listed as sources."

Among the book's claims: Vernon Winfrey, a kind but stern man, raised her as his child, even though he realized he wasn't her father. Katherine Esters, a cousin Oprah refers to as "Aunt Katherine," told Kelley the identity of Oprah's biological father, on the condition she keep it secret. Esters also claimed Oprah didn't grow up as poor as she claims and said she doubted if Oprah was sexually abused.
Several of those interviewed said Oprah's two greatest needs since early childhood are to be in charge and to be in the spotlight. These traits have made her controlling and a narcissist, writes Kelley, citing sources who have worked with Oprah. Her power in publishing and television is now so great that Kelley has had trouble getting TV appearances and newspaper interviews for the book. (Nevertheless, though it has been out only a few days, Amazon claims it has just hit third place on its best-seller list.)
Kelley describes Oprah's transition from "trash TV" to inspirational topics and credits her with popularizing a love of reading through her book club. At the book party on Friday, she shared her admiration for Oprah, saying that through talent and determination she has become one of America's best-loved icons, world-renowned, a friend of global celebrities and a billionaire twice over.
"She came into our homes and changed our lives," said Kelley.