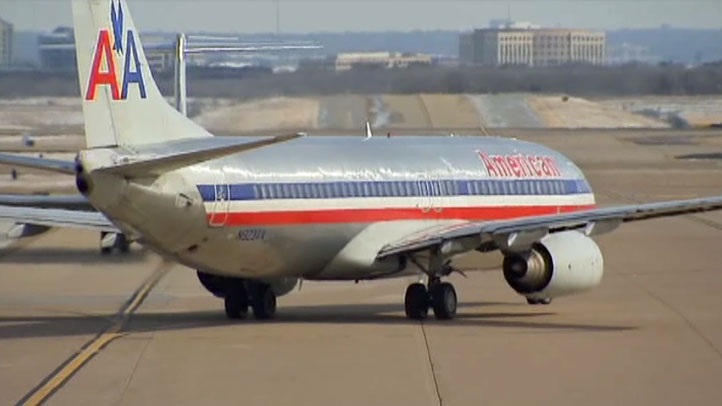 American Airlines and US Airways officially confirmed their merger to become world's largest airline -- the "new" American Airlines.
The boards of American Airlines and US Airways both on Wednesday approved a merger deal. The formal announcement of the merger came early Thursday morning on American Airlines' website.
The companies will merge into the "new" American Airlines, keeping the recently revealed new livery and branding of the company, and dropping the US Airways name.
A new website for the combined company details many of the frequently asked questions about the merger.
The deal is valued by the companies at $11 billion of combined equity value based on US Airways' stock price on Feb. 13, 2013.
American Airlines CEO Tom Horton will serve as Chairman of the airline's combined Board of Directors through the first annual stockholders meeting, according to an official press release. US Airways CEO Doug Parker will serve as CEO of the new company and be a member of the Board of Directors until transitioning to the Chairman role following Horton's first year.
The company details its new board as having three American Airlines representatives, including Horton, four US Airways reps, including Doug Parker, and five AMR creditor reps.
The new airline will keep its headquarters in Fort Worth.
"Glad to see it finally happening. It will be a great airline for travelers and continue to grow. Fort Worth will remain their home and we are very pleased about that. Still lots of details to be answered, but I feel good about it," Fort Worth Mayor Betsy Price told NBC 5 DFW.
American Airlines flight attendants in the Association of Professional Flight Attendants said they "enthusiastically welcomed today's announcement" in a press release.
The Allied Pilots Association, which includes American Airlines pilots, said on Twitter, "This is a historic day for our airline, its employees and our passengers who rely on AA to take them across the globe."
"Soft Takeover" to World's Largest Airline
The Wall Street Journal first reported that both boards had voted on Wednesday to approve the merger.
The deal has been in the works since August, when creditors forced American to consider a merger rather than remain independent. American has been restructuring under bankruptcy protection since late 2011.
Together, American and US Airways will be slightly bigger than United Airlines. Travelers won't notice immediate changes. It will likely be months before the frequent-flier programs are merged, and possibly years before the two airlines are fully combined.
If the deal is approved by American's bankruptcy judge and antitrust regulators, the new American will have more than 900 planes, 3,200 daily flights and about 95,000 employees, not counting regional affiliates. It will expand American's current reach on the East Coast and overseas.
"If this is a takeover, it is one of the softest takeovers I've seen," said Rick Seaney with Dallas-based Farecompare.com. "Stays in Dallas, stays with advantage program One World, 70/30 deal, losing top management it looks like, but I'd say it's a pretty passive, aggressive takeover."
The merger is a stunning achievement for Parker, who will run the new company. Parker's airline is only half the size of American and is less familiar around the world, but he prevailed by driving a wedge between American's management and its union workers and by convincing American's creditors that a merger made business sense.
"In the short-term, this deal is going to take about two years to happen, so we've seen airlines raise prices, attempt to at least three or four weeks, that's going to continue regardless of this merger," Seaney said. "Long-term prices will be higher, it'll be tempered by the economy and how much we can afford to pay for tickets right now. That's what's holding prices down at the moment."
Travelers at Dallas/Fort Worth International Airport said Wednesday that they were not surprised to hear about the merger.
"I think it's good," Ethan McClusky said. "I think it betters the airline, and they said pilots are going to get better raises, so I think it's better overall."
Mark Boeller, who always flies American, said he thinks the merger will be great.
"It will give us access to the East Coast," he said. "American's going to continue being a primary player. I think it'll be awesome."
But Chris Desjardins said his experience with US Airways has not been good and said he doesn't think the merger will help American.
"When I use to fly up and down the East Coast, I would fly US Airways," he said. "All I can think of is, everything about American is going downhill; their customer service."
Just five years ago, American was the world's biggest airline. It boasted a history reaching back 80 years to the beginning of air travel. It had popularized the frequent-flier program and developed the modern system of pricing airline tickets to match demand.
But years of heavy losses drove American and parent AMR Corp. into bankruptcy protection in late 2011. The company blamed bloated labor costs; its unions accused executives of mismanagement.
NBC 5's Greg Janda, Scott Gordon, Ray Villeda and Brian Curtis contributed to this report.