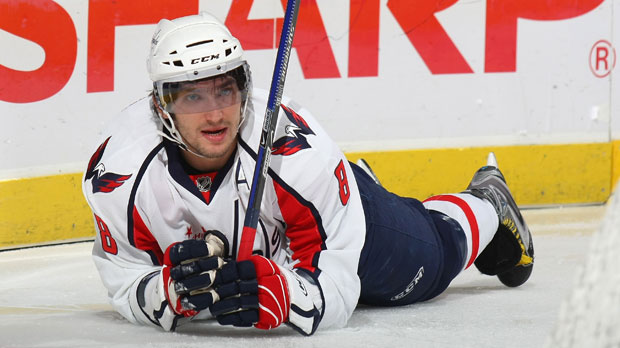 Alex Ovechkin scored another extraordinary goal while sliding on the ice, helping the Washington Capitals to a 4-3 shootout win over the Montreal Canadiens in the NHL on Wednesday.

Passing to himself with a backhander off the boards to get around an opponent, Ovechkin was hooked off his skates and onto his right side, but as he slid toward the net, the league's reigning MVP had the presence of mind to poke the puck under the right pad of the Montreal goaltender.

It was a goal to rival his famous sliding goal against Phoenix in 2006, and helped the Capitals to a win that gave them outright second place in the Eastern Conference.

Alexander Semin and Nicklas Backstrom scored in the shootout for the Capitals, while goaltender Jose Theodore clinched the victory by stopping two shots.

The Canadiens led 3-2 heading into the final three minutes of regulation, but Tom Poti's deflected shot forced overtime.

Montreal slipped to outright sixth in the Eastern Conference.



Red Wings 6, Predators 2
In Detroit, the hosts got five power-play goals to crush Nashville.

Nicklas Lidstrom and Johan Franzen each had two goals and an assist for the Red Wings, who moved back within a point of Western Conference leader San Jose.

Henrik Zetterberg and Jiri Hudler added a goal and as assist each for Detroit.

Steve Sullivan scored his first two goals in two years to account for Nashville's scoring.



Kings 4, Ducks 3
In Anaheim, California, Los Angeles edged its city rival Anaheim in a meeting of two teams on the fringes of playoff contention.

Anaheim's Ryan Getzlaf scored early in the third period to make it 2-2, but Dustin Brown and Anze Kopitar soon responded to give the Kings a two-goal buffer.

The Ducks cut the deficit to one when Chris Kunitz scored with 3:40 to play, but Kings goalie Jonathan Quick shut down the Ducks the rest of the way, finishing with 28 saves.



Blue Jackets 4, Blues 3
In Columbus, Ohio, victory over St. Louis gave Columbus its best record ever in its eight-year history.

The result put the Blue Jackets six games over a 50 per cent winning record for the first time, and kept them in with a chance of a first ever playoff appearance.

Goalie Steve Mason made 21 saves — none bigger than a key stop in the closing seconds — for Columbus, which moved into a tie for fifth in the Western Conference with Vancouver.

Rick Nash, Manny Malhotra and Fedor Tyutin each had a goal and an assist for Columbus, and Andrew Murray also scored.

Brad Winchester, Alex Steen and T.J. Oshie had goals for St. Louis, which had won its five previous games against Columbus. The Blues scored two third-period goals to cut the deficit to one and make the final few minutes interesting.



Rangers 3, Islanders 1
In New York, the Rangers and besieged coach Tom Renney got a much-needed win in the all-New York showdown.

Scott Gomez's power-play goal in the second period put the Rangers ahead to stay. While they didn't break out of their offensive funk, nor cure their power-play ills, they did enough against their biggest rival to earn their second win in 10 games.

Nigel Dawes scored in the first period and Fredrik Sjostrom added a late empty-netter.

Copyright AP - Associated Press