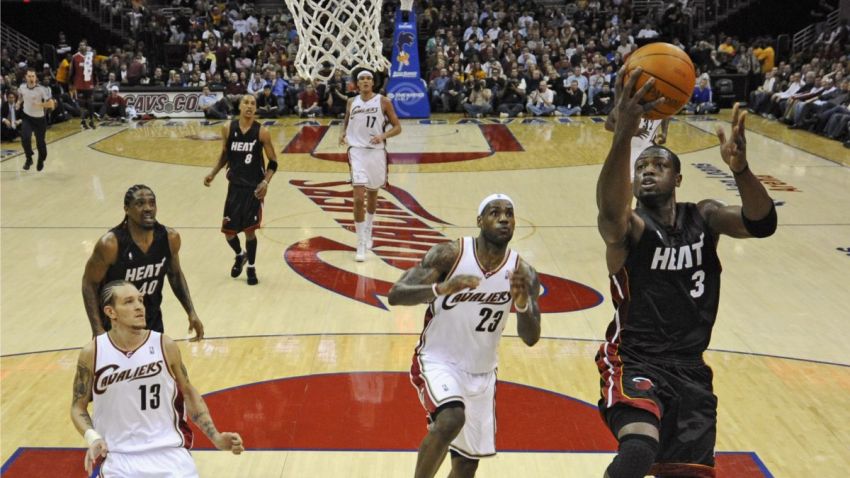 CLEVELAND — The Cleveland Cavaliers again showed their impressive capacity to bounce back from losses, beating the Miami Heat 99-89 in the NBA on Saturday.
While improving their home record to 28-1, the Cavaliers improved to a league-best 12-1 following a loss, quickly shaking off the disappointment of defeat at Boston the previous day.
LeBron James had 14 points, 12 assists and 10 rebounds for his fourth triple-double of the season and 21st of his career. He also became the second youngest player in league history to pass 3,000 asists, being about three months older than Isiah Thomas.
Mo Williams scored 29 points for the Eastern Conference leaders.
Miami star Dwyane Wade was ejected for the first time in his career after a second technical foul in the final minute. He finished with 25 points, 12 assists and eight rebounds.
Hawks 87, Pistons 83
In Atlanta, the hosts ended Detroit's four-game winning streak.
Josh Smith scored 19 points, Al Horford 18, and they each grabbed 12 rebounds.
The Hawks have a 1-1/2 game lead over Miami for the No. 4 spot in the Eastern Conference playoff race. Their defense held the Pistons without a field goal for an eight-minute span of the third and fourth quarters.
Though the scores were close, Detroit never got ahead after going behind late in the third quarter.
Trail Blazers 95, Timberwolves 93
In Portland, Oregon, Portland made it 11 straight home wins by downing Minnesota, and closed on the Northwest Division lead.
Brandon Roy scored 31 points to lead the way for the Blazers, whose eight straight wins over the Timberwolves is the longest active run in the NBA.
Portland moved within half a game of Northwest leader Denver.
The Timberwolves have lost nine in a row and 17 of their past 19.
Hornets 108, Thunder 90
In New Orleans, the home side notched a seventh successive win by cruising past Oklahoma City.
Chris Paul had 21 points and 13 assists for the Hornets, who closed within two games of Southwest Division leader San Antonio.
Bobcats 114, Knicks 105
In New York, Charlotte beat the New York Knicks for their franchise-record sixth straight victory.
Gerald Wallace had 23 points and 13 rebounds for the Bobcats, who have the longest winning streak in the Eastern Conference. Charlotte also ended a run of four consecutive defeats by New York.
The Bobcats, who have never made the playoffs since joining the NBA for the 2004-05 season, also equaled their franchise best with a fourth straight road victory.
Mavericks 119, Wizards 103
In Dallas, Dallas came from 10 points down in the first half to hand Washington a fifth straight loss.
Dirk Nowitzki scored 34 points, along with nine rebounds and a season-high seven assists, and Jason Terry equaled a season-high with 33 points.
The Wizards dropped to 4-27 on the road.
Bucks 127, Warriors 120
In Milwaukee, Richard Jefferson scored a season-high 35 points as Milwaukee held off a big rally to beat Golden State.
Golden State's Jamal Crawford scored 15 of his 32 points in the fourth quarter as Milwaukee squandered a 13-point lead, but the Bucks never let the Warriors get ahead, and notched a third straight win.
76ers 110, Grizzlies 105
In Memphis, Tennesssee, Andre Iguodala scored 24 points to lead Philadelphia over Memphis.
Andre Miller added 20 points, 10 rebounds and eight assists for the 76ers.
The Grizzlies have lost nine of their past 10.
Pacers 106, Clippers 105
In Los Angeles, Jarret Jack scored nine of his 25 points in the fourth quarter and made a key steal in the final seconds to preserve Indiana's win over Los Angeles.
The Pacers trail Chicago by two games for the final Western Conference playoff spot, but have to overtake four teams to get there.

Copyright AP - Associated Press