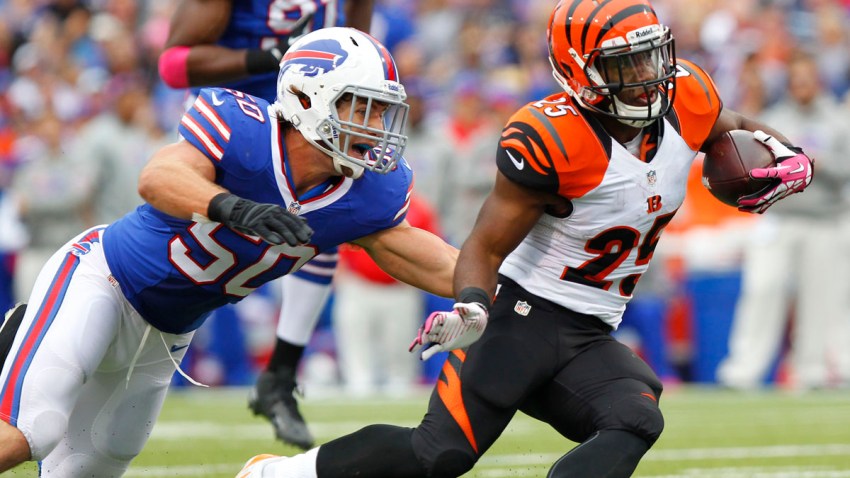 After six weeks of NFL action, it's become clear that the Chiefs and Broncos, barring any serious injuries to key players, look primed for playoff action. The New Orleans Saints, New England Patriots and Seattle Seahawks, despite blemishes on their records at 5-1, also appear ready to contend for the Super Bowl. Everyone else is in a weekly fight for potential playoff position. Even the 1-4 Vikings and Steelers have a glimmer of hope considering the weakness of their divisions. The same can't be said for the Giants, Jaguars and Buccaneers though, who have way too many problems, on both sides of the football, to even get back to .500 by the end of the season.
Here's what else we learned:
Peterson Plays After Family Tragedy: Just two days prior, Minnesota Vikings' star RB Adrian Peterson's 2-year-old son was killed in an alleged case of child abuse in Sioux Falls, S.D. Although the Vikings lost 35-10 to the Panthers, Peterson's performance, 62 yards rushing and three catches, was more an emotional victory. " I never thought about not playing," he told The AP after the game. "It was all about just going out there and praying that I have the strength to get through and help my team. That was my focus."
Patriots Break Hearts in Stunning Win over Saints: Tom Brady needed 84 pass attempts over the past two games to get a TD under his belt, but his fourth quarter diamond to Kenbrell Thompkins earned the Pats the last second 30-27 win over the then 5-0 Saints. The return of Stevan Ridley (20 carries, 96 yards, two TDs) also sparked New England running game. "I feel like that game took five years off my life," Patriots Head Coach Bill Belichick said after the game. But the Pats and their coach may find their fountain of youth soon. Still without TE Rob Gronkowski, New England hasn't come close to reaching their true potential yet.
Jacksonville Has At Least One Jaguar: Justin Blackmon's 14-catch, 190 yard performance against the Broncos may be the best game by a wide receiver this season. Even in defeat, the Jags held their own for so long and Blackmon, one of their prized young receivers, was able to put that type of game together against an undefeated defense. That's something for Jacksonville fans to be prideful about.
Giants Still Winless: Big Blue hasn't been 0-6 since 1976, a year they went 3-11 with Hall of Famer Larry Csonka as their fullback. Eli Manning's performance this season has been far from the 26-TD performance he had in 2012. 12 of Manning's NFL leading 15 interceptions have come in the first or fourth quarter, putting the team behind the eight ball from the start or breaking the team's morale in close games. The defense hasn't helped either. If the Bears would have scored three more points in their 27-21 win over the Giants on Thursday, Big Blue would have been the first team in NFL history to give up 30 points or more through the first six games for the season.
KC and Denver Still Perfect: Denver had it easier than KC against the 0-6 Jaguars and Peyton Manning continued to find all of his receivers in a solid 35-19 win. Jamal Charles ran for two TDs in a 24-7 win against the 2-4 Raiders, where Kansas City pounded Oakland QB Terrelle Pryor for three interceptions and 10 sacks. In six games this season, the Chiefs defense has given up an NFL low 65 points.
Hope for Steelers?: The Steelers 19-6 win over the Jets gave them their first win of the season, but it wasn't pretty on offense. The Jets defense limited them to just one-TD, a dramatic 55-yard catch by Emmanuel Sanders and four Shaun Suisham FGs. The Steeler defense though, was stellar, with two interceptions three sacks and six quarterback hits. With an offense that has weapons and a defense that has shutdown potential, Pittsburgh's season may not be over yet.
Matt Schaub Days Over in Houston? After throwing six interceptions over the last three games, the Texans QB looked solid in two and half quarters against the Rams going 15/21with no turnovers and 186 yards passing, but a right ankle injury took him out of the game. Backup T.J. Yates looked like the Schaub of week five and threw two interceptions en-route to a disastrous 38-13 drubbing to the Rams. With Schaub having the worst season of his career and now injured, how long with the Texans wait to find a replacement?
Bengals Roaring: Cincinnati QB Andy Dalton has been average for most of the season and the combination of "The Law Firm," BenJarvus Green-Ellis and Gio Bernard have been far from stellar, so how are the Bengals 4-2 and sitting pretty atop the AFC North? In high drama situations, they have a knack for coming out victorious. After Dalton and Bengals offensive coordinator Jay Gruden were blasted by local media, Dalton steps up and has a 337-yard, three-TD day and Green-Ellis ran for 86 yards on just 18 carries. Add in another game-winning FG from Mike Nugent and the Bengals continued to scratch and claw their way to victory in a 27-24 OT win over the Bills.
Jets Continue Hot and Cold Ways: If Gang Green had a theme song this season it would be Katy Perry's "Hot and Cold." Flip-flopping wins and losses through the season's first six week's QB Geno Smith continues to show flashes of brilliance, but reeks of inconsistency. Case in point. In the Jets three wins, Smith has six TD passes and three interceptions. In the team's three losses, he only has one TD and seven interceptions.